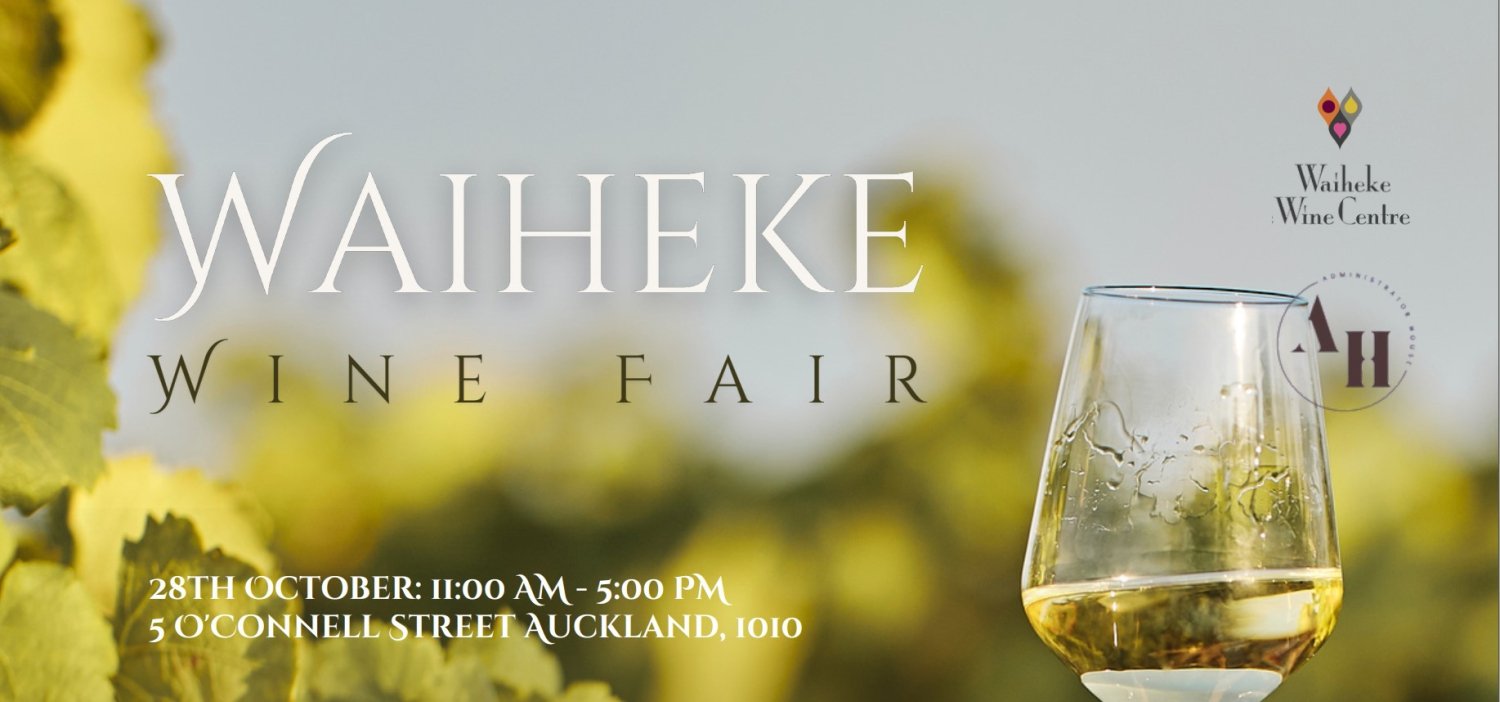 Event Details
Join us at the Waiheke Wine Fair!
Come and indulge in a day of exquisite wines, delicious food, and great company at the Waiheke Wine Fair. This in-person event is the perfect opportunity for wine enthusiasts to explore and savor the finest wines from the renowned Waiheke Island.
Date: Sat Oct 28 2023
Time: 11:00 AM - 5PM
Location: 5 O'Connell Street, Auckland, Auckland 1010
How it works: Each attendee will receive 5 tokens.1 token = 1 tasting at 1 winery. If attendees wish to purchase extra tastings, they can do so by purchasing extra tokens valued at $2 each which will secure a sample of wine (30ml) from one of the participating wineries. (Please note some of the more premium wines may require two tokens).
Wineries attending:
Man O'War
SOHO
Obsidian
Casita Miro
Postage Stamp Wines
Peacock Sky
Passage Rock Winery
Te Motu
Batch Winery
Goldie Estate
Frenchmans Hill Estate
Mawhitipana Ridge
Jurassic Ridge
Immerse yourself in the vibrant atmosphere as you sample a wide selection of award-winning wines, carefully crafted by talented local winemakers. From crisp whites to full-bodied reds, there's something to please every palate.
Indulge your taste buds further with an array of delectable food options available, perfectly paired to complement the wines on offer.
Engage with passionate winemakers who will be present to share their knowledge and stories behind their creations. Learn about the unique characteristics of Waiheke wines and gain insights into the winemaking process.
Whether you're a seasoned wine connoisseur or simply looking for a fun day out, the Waiheke Wine Fair promises an unforgettable experience. Don't miss this opportunity to explore the world of Waiheke wines and celebrate the art of winemaking.