Crystal Mountain in West Auckland - Jewelry Shop, Museum and Theme Park
Adventure Arts & Culture Family Fun
Most of the people visiting Auckland are exploring top destinations, attractions, and beaches. That is a very rational thing to do as they are unfamiliar with the area and wouldn't like to miss its best places. On the other side, I believe there are so many hidden gems on our way to every top destination in the world and none talks much about it.

In the light of that thought, this article is made to interest you in a place that will make you feel wonderful, sparkling, young, and surrounded by animals from the present and past. It is called Crystal Mountain, located on 80 Candia Road in West Auckland.
My love for crystals, beads and jewellery, in general, goes back in time when I was a kid. I made my mom buy me all the necessary tools and material, so I can pretend to be a great jewellery maker. I still keep my passion for semi-precious stones and bring a unique memorable piece from every trip I take in the world. That is how I have discovered this amazing place.

Crystal Mountain is a retail shop, museum and kids friendly theme park, designed to attract all friendly people. They are very proud of their amazing New Zealand largest selection of world crystals, semi-precious stones, Animal Park and rides, Dinosaur Gully, Gemfields pony riding school for all age groups, and more. Moreover, they have a beautiful café to relax, have a nice cup of coffee and treat your family and yourself with a great meal.
If you are heading off to West Auckland beaches like Piha, Karekare, Bethells, or Muriwai, definitely plan to make a stop and visit this place at least for an hour or two. Once you make a turn from the main road, it takes only a few minutes until you arrive. There is a huge free car park available in front of the main entrance.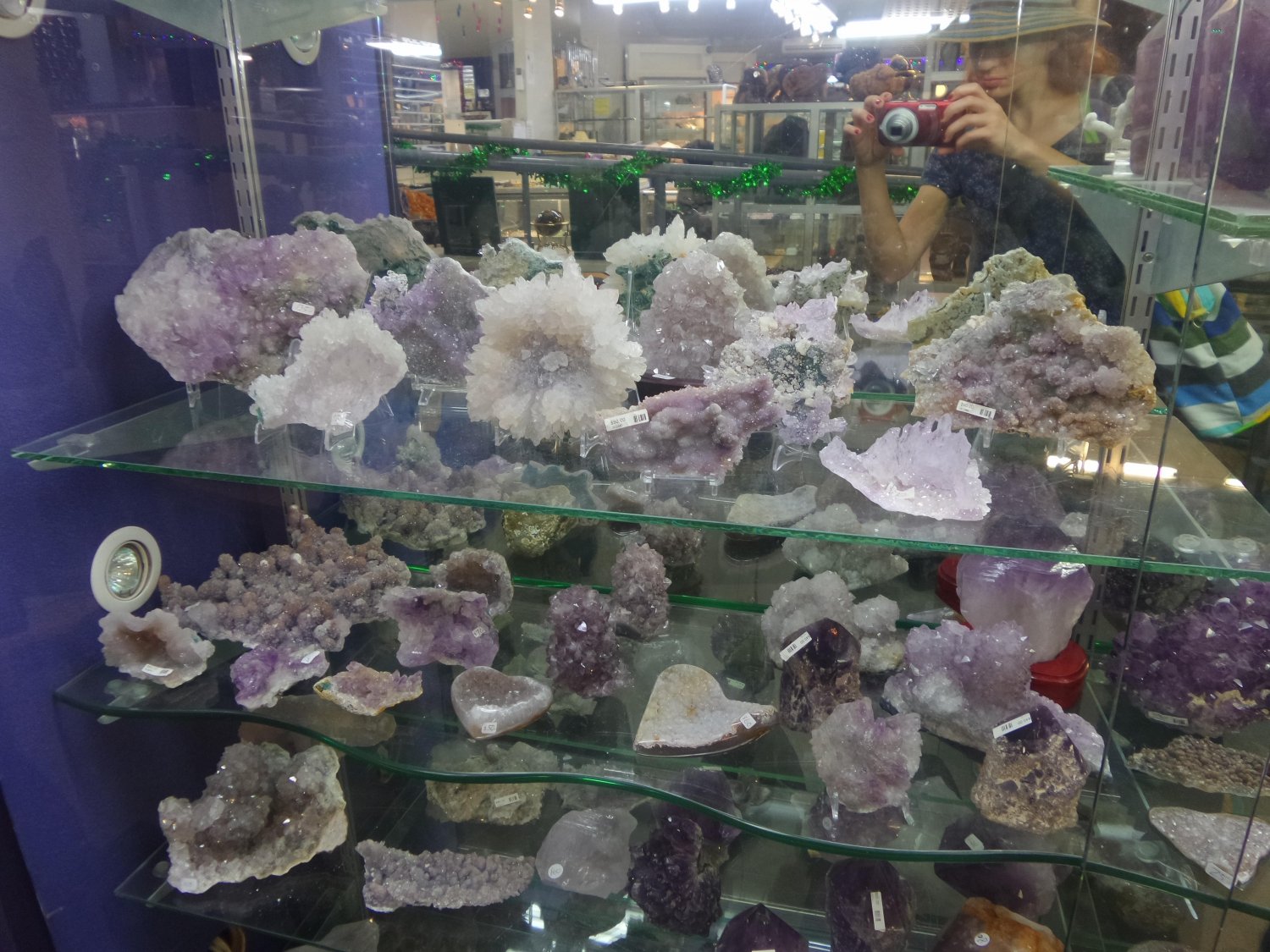 Right after you step through the main door, you will be welcomed by huge crystal stones. They transmit positivity, beautiful warm energy and make you feel you are at the right place. Moving forward, you will enter the retail shop, filled with colours, art, precious jewels, and friendly staff. This is a place where you need to take your time, carefully look at all sparkling stones and choose one for you to bring home as a memory. The prices are quite modest and leaving without a stone to remember would be like bad luck.

Once you are done with admiring to the natural rocks including the museum inhabitants and have a full pocket of stones, pendants or anything else you like, keep going and you will come across the fun animal park. In here you will forget about your age and feel like a kid again. Simply, there is an opportunity to feed the animals, jump on the express train, as well as to experience speedy Gonzales roller coaster, meet up eye to eye with T-Rex and other dinosaurs in the gully. If you are more into riding, you will find an answer to that as well – There are pony rides available.
Here are some of the prices: Ultimate experience pass – all day long 35 NZD per person, park visitor pass 15 NZD per person, Speedy Gonzales ride 5 NZD, Pony Ride 5 NZD, etc.

For all those who get tired and hungry from exploring stones and having fun rides, there is a great café located within the complex. The offer is fabulous and kiwi focused – big breakfast, pancakes, muesli, eggs benny, burgers, salads and soup of the day. The kitchen is opened until 3 pm, followed by cabinet food available until 5 pm. Food prices are very family-friendly as well. On average, you will spend 18 NZD per meal. Hot drinks are around 4 NZD and sodas 3 NZD. Very fair for New Zealand standards.
As the food quality is very high, you will leave the café with a happy feeling in your stomach and heart, before you feel an ocean breeze on your favourite Tasman beach.

Practical Information:
The opening hours for the whole complex are a bit tricky and depend on school terms and holidays. For the gallery, museum and café are Tuesday- Sunday from 9 am- 5 pm, and during school holidays Monday-Sunday from 9 am – 5 pm.
If you are taking the kids with you and you want them to experience theme park, the opening hours are: 
Tuesday – Friday from 10 am – 2 pm and Saturday - Sunday from 10 am- 5 pm. Otherwise, Monday – Sunday from 10 am – 5 pm. For any other information, I advise you either to call or email.
Allow at least a couple of hours, or feel free to spend the whole day with the kids as there are heaps of activities available
If possible, visit when the weather is nice or not too rainy, for the better experience
Photos by
Maja Krstic
.