Power to the Pedal: Auckland by e-bike
Inspiration Sports
Exploring Auckland at night on an e-bike
Our Top Experiences and Tours in Auckland:
If youʻre booking your trip to Auckland last minute, we have you covered. Below are some of the top tours and experiences!

From its base near

Albert Park

,

Power to the Pedal

offers a way to explore Auckland city's public and private side in guided tours on easy-to-ride

electric bikes

. The hardest part is walking up the hill to meet friendly owner/guide Eddie Jack, who is full of enthusiasm, encouragement and information.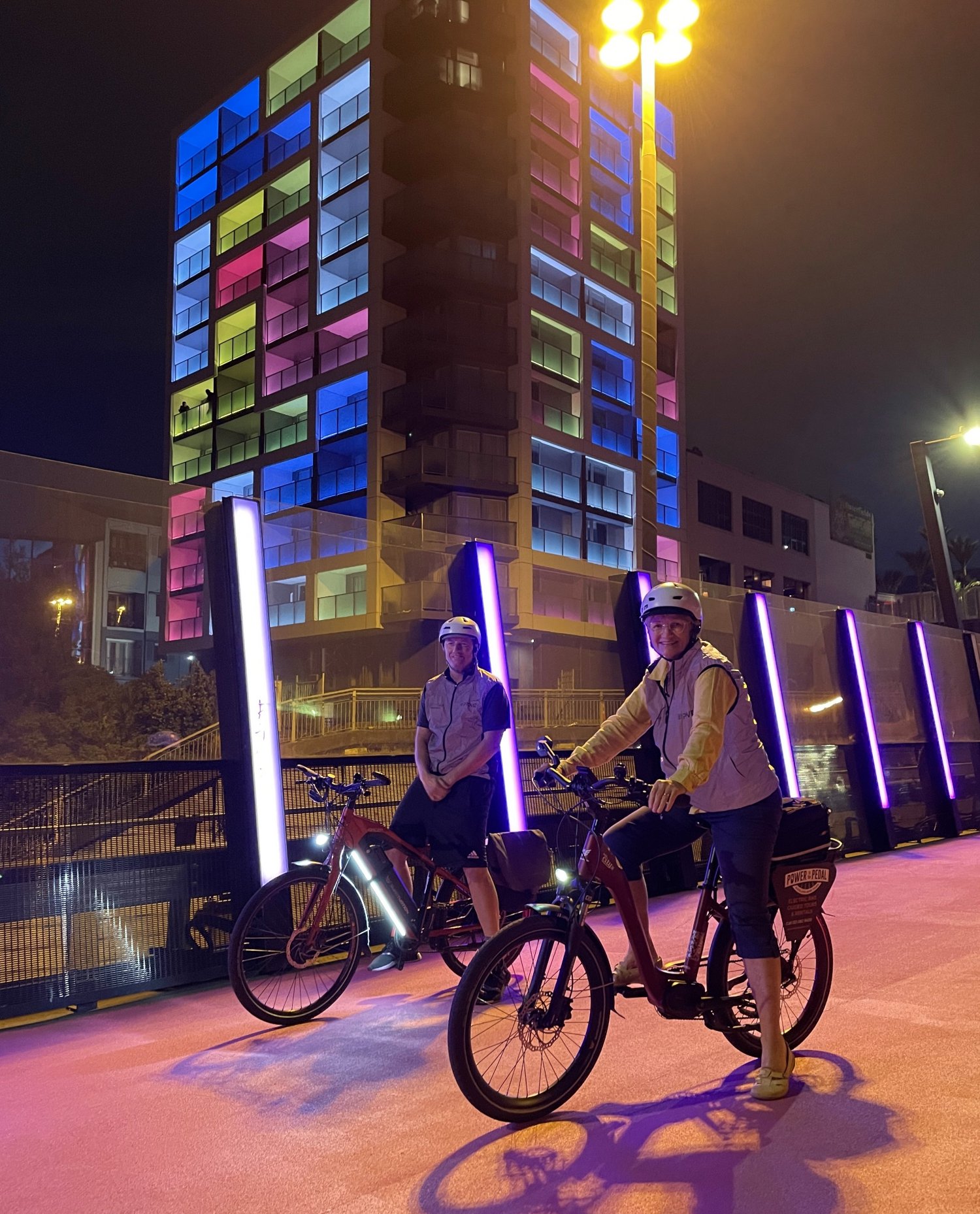 After a welcome, there is a calm and reassuring introduction to
the e-bikes
, and a safe practice on them in the car park. When everyone feels confident, which takes no time, because the bikes are so simple to operate, you set out on your expedition, immediately discovering the advantages of an electrically-powered bicycle on the city's many hills.
A simple press of a button is all that's required to add a satisfying boost to your
easy pedalling,
and it's immensely satisfying to ride uphill without breaking a sweat. Comfortable head-sets mean that everyone can hear Eddie's commentary and directions, so you always know where you're going.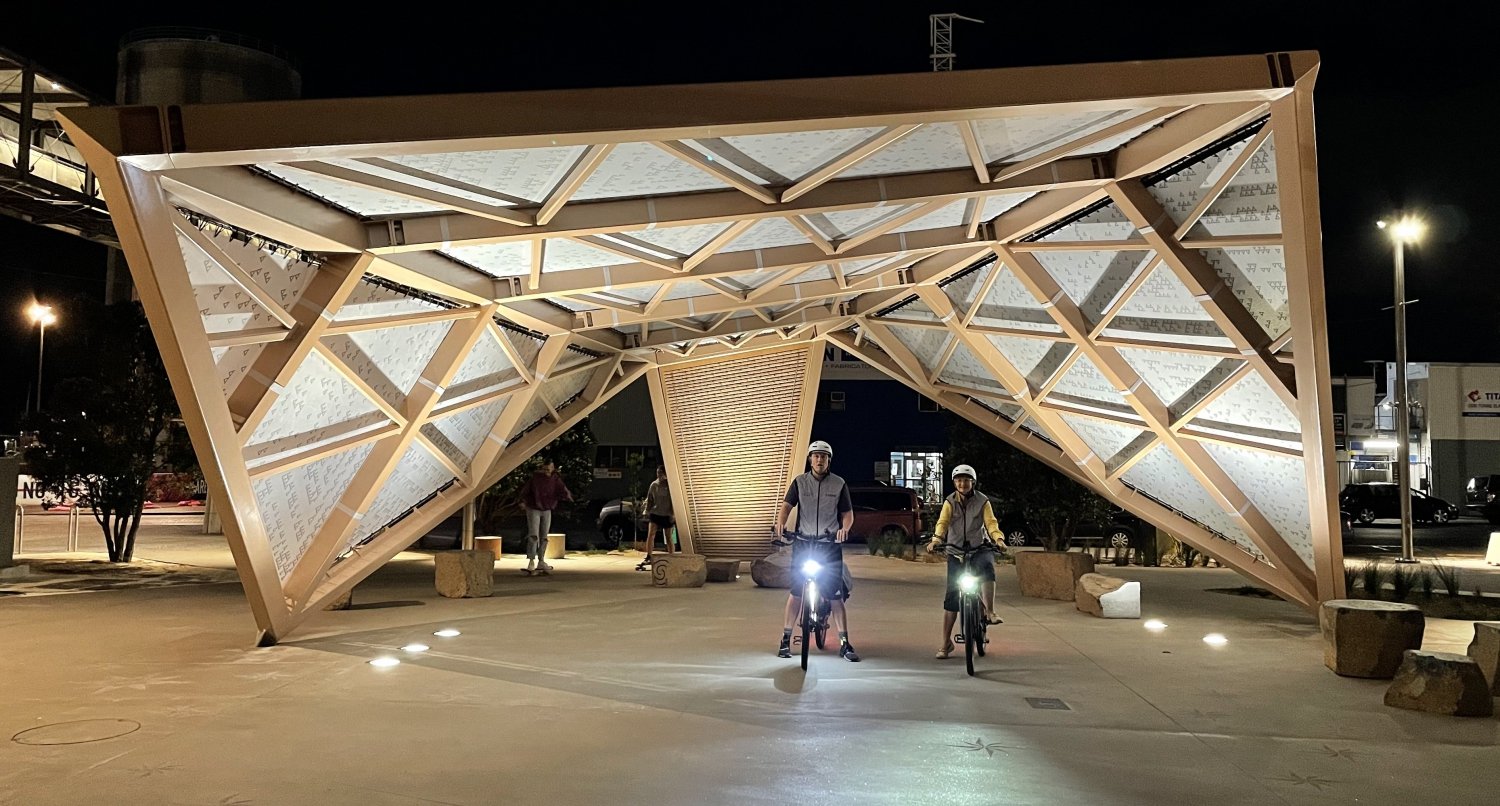 On the Inside Loop, the 16 kilometre tour takes 2.5 hours to cruise through some of the city's most vibrant neighbourhoods, taking advantage of the many dedicated cycleways as well as quieter back-street routes. Powering up Grafton Gully, there's a brief detour along the bright pink Lightpath, but the main focus is the inner circle of K Road, Ponsonby, Grey Lynn and the Wynyard Quarter. There are lots of stops for inside looks, photos and informative chats about places you might have driven past for years without even noticing.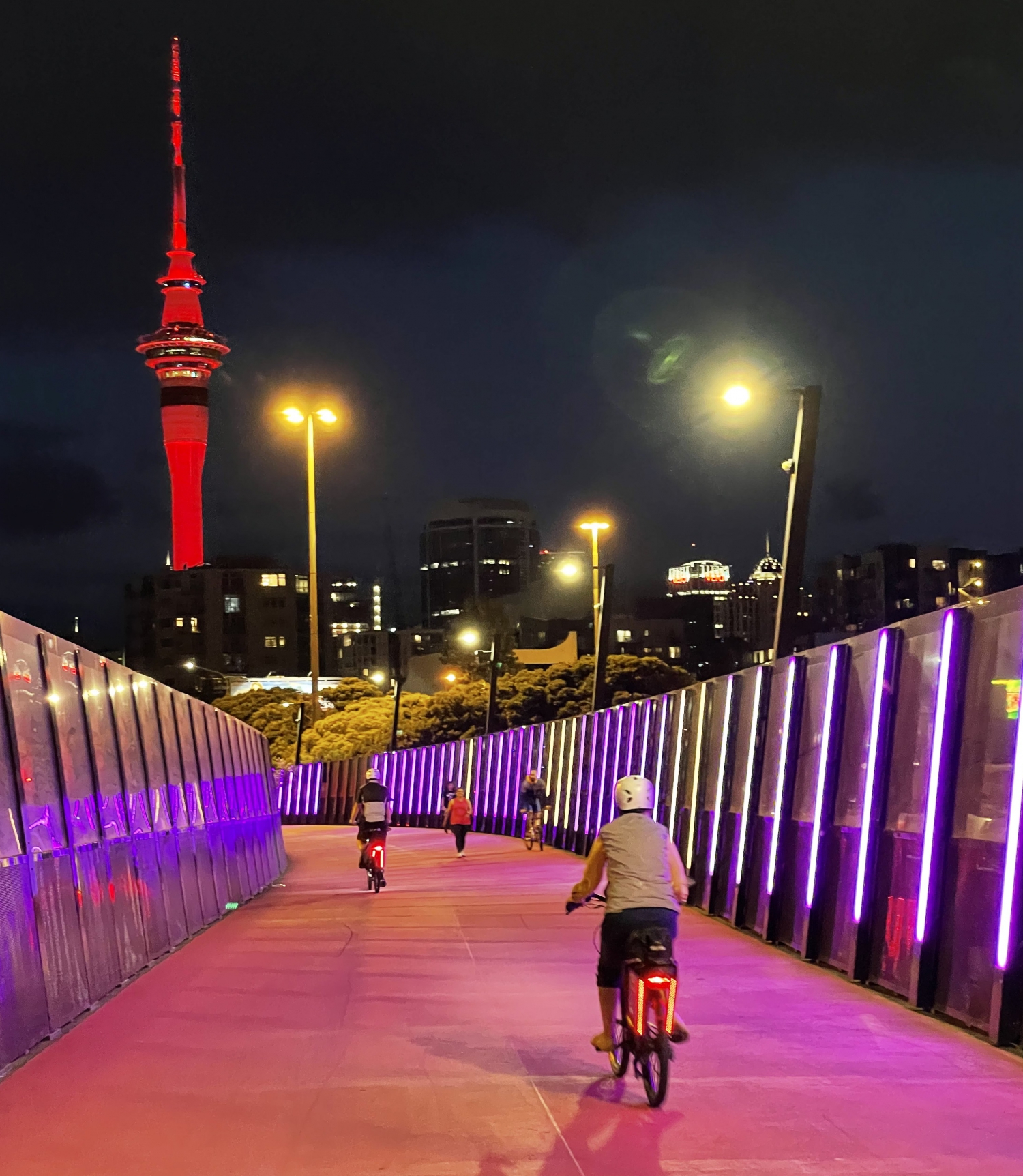 Some things you'll learn are astonishing: like the 50,000 people who were displaced in the mid-sixties when the inner-city motorway was built. Some of it is surprising, like St Kevin's Arcade and its quirky shops. And some is simply lovely, like Hakanoa Street's stately avenue of plane trees. Ponsonby's lively history supplies many entertaining stories, one of them about a murderer appropriately named Gunn; and a leisurely inspection of the many elegant old villas in Grey Lynn's quiet side streets is a real delight.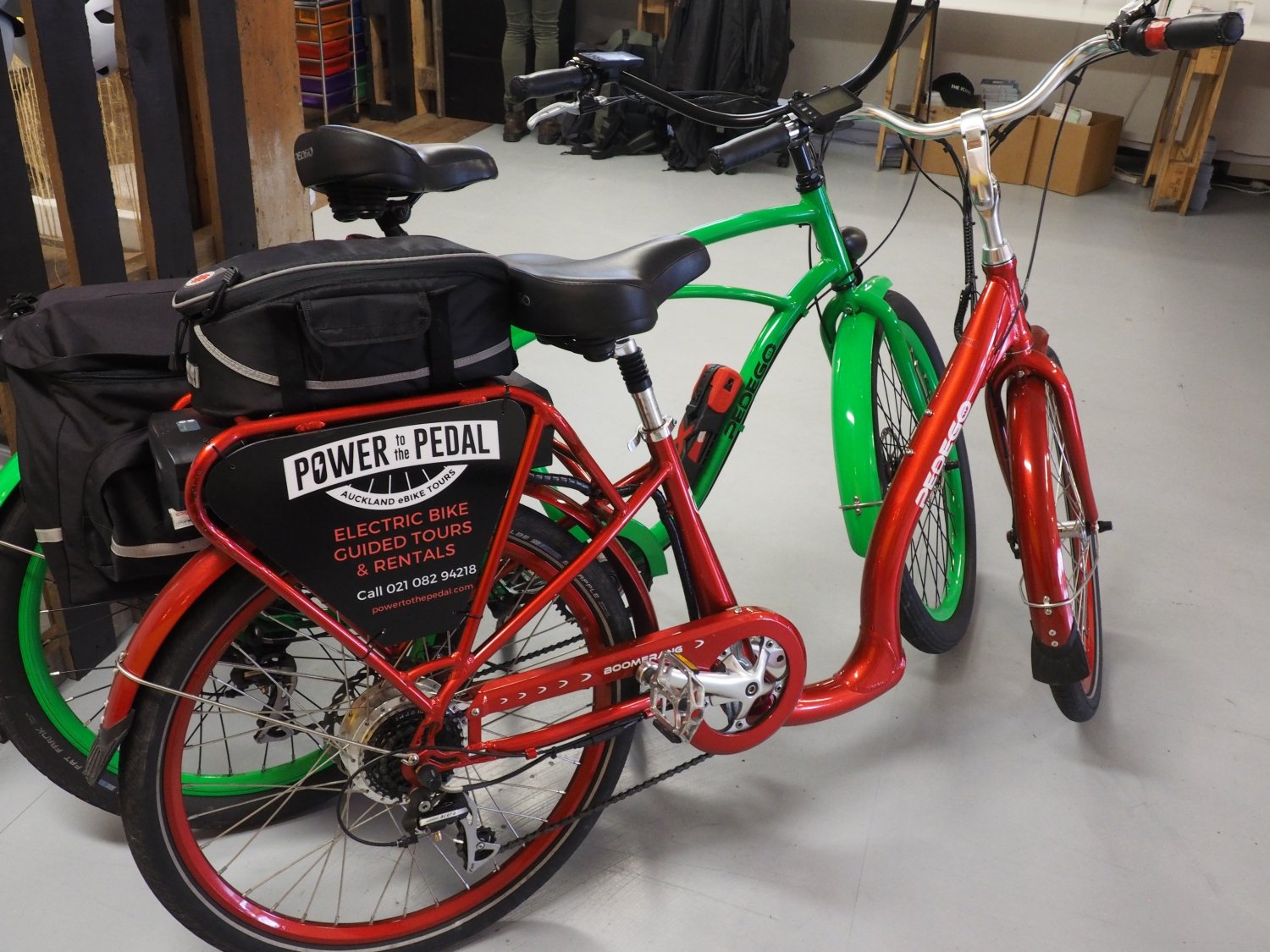 Herne Bay and Westhaven have their own stories, which Eddie shares, and then the tour winds up along Wynyard Quarter, currently buzzing with America's Cup excitement.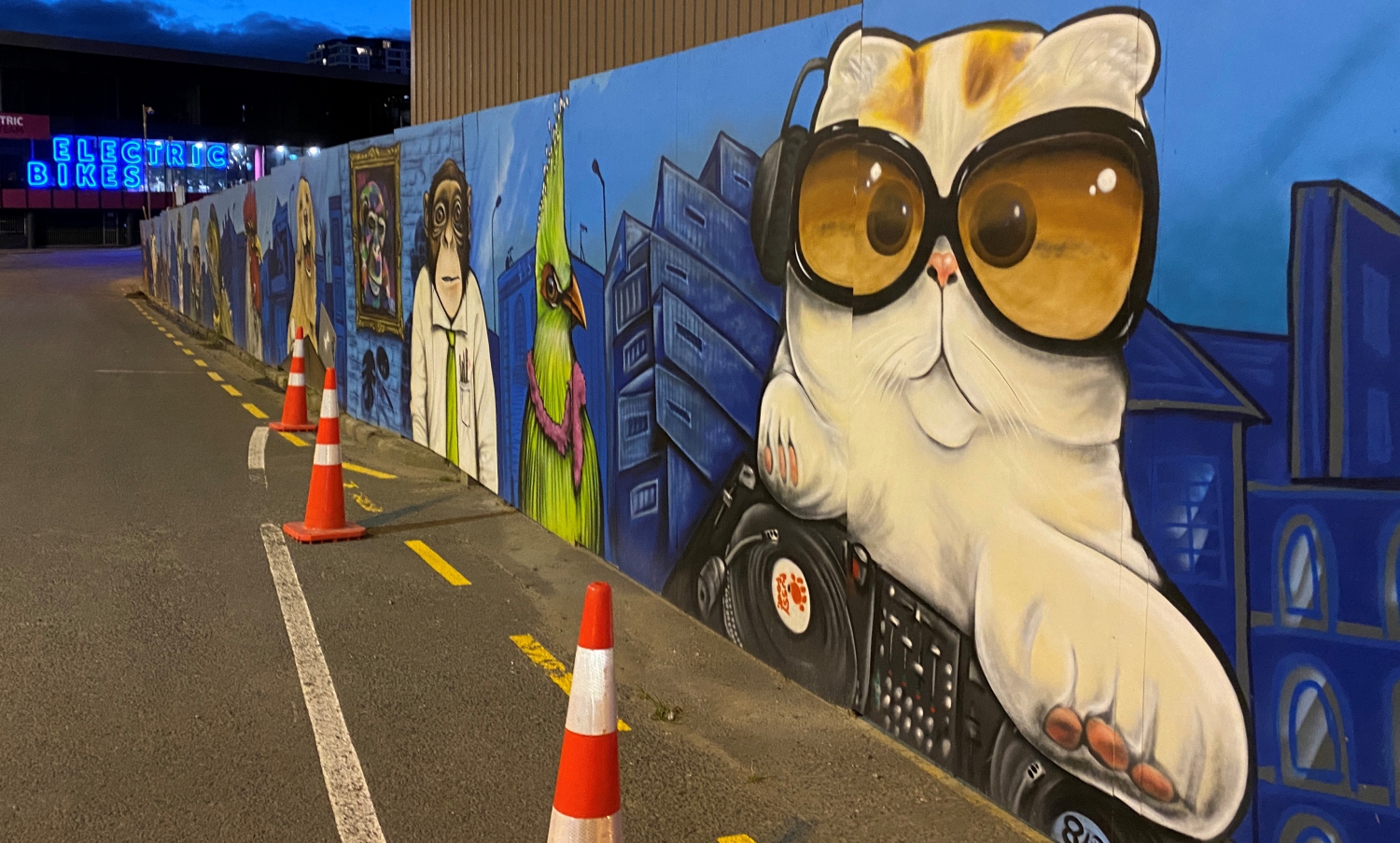 If anything, this section of the waterfront is even more appealing on Eddie's City Lights tour. This ride, for which you are kitted out in reflective safety gear, begins just before sunset, taking advantage of all the inner city's literal highlights, of which there are far more than you might have expected. Tucked around side streets and down alleys are colourfully illuminated artworks, sculptures, murals and buildings that you never knew were there, but which Eddie can tell you all about.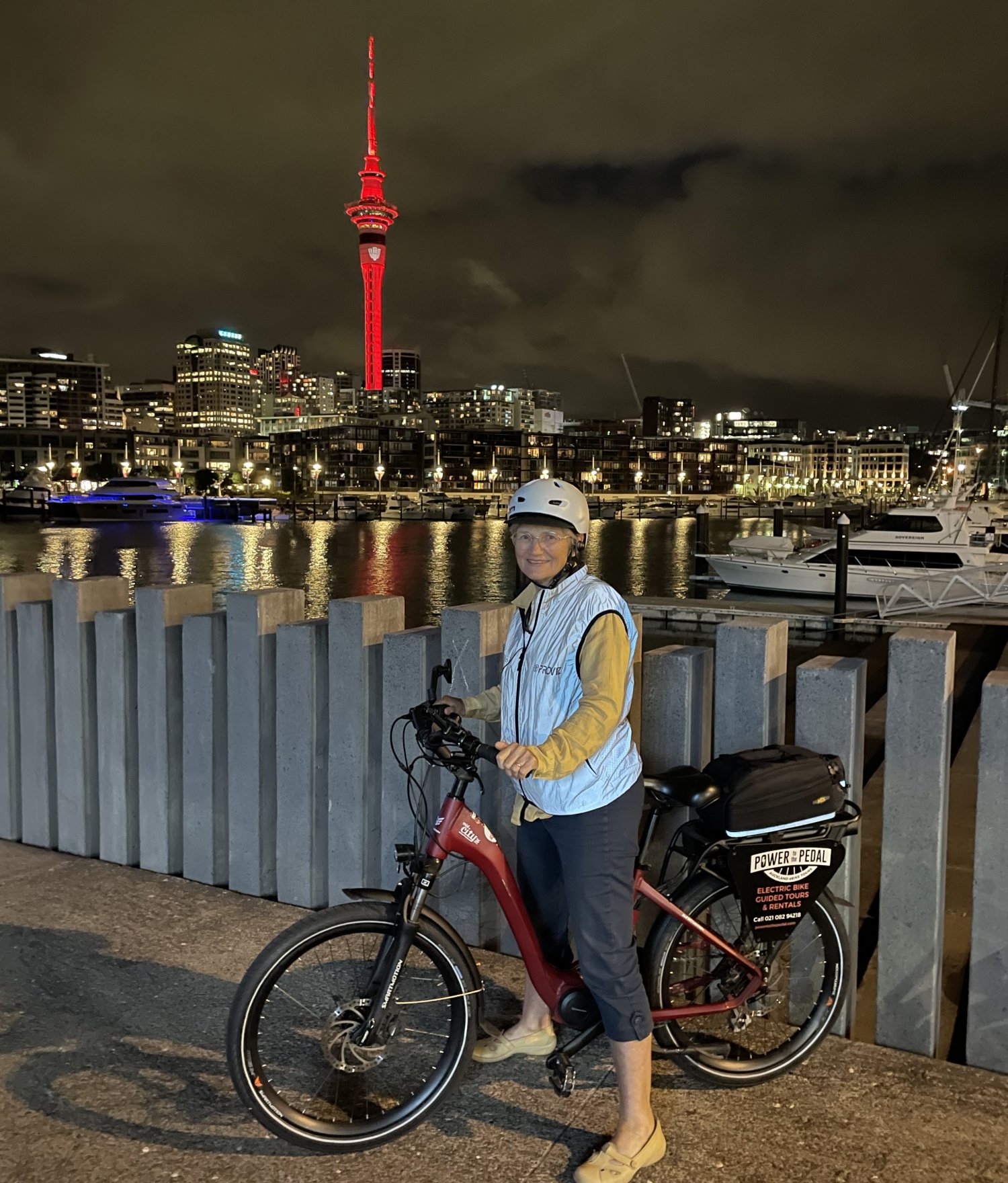 Naturally the Lightpath is a major feature on this tour, its interactive lights providing some fun as you ride along its bright pink surface, the Skytower above you even more brightly lit. It's a real contrast after that to cross through the darkness of Victoria Park, but then comes the Harbour Bridge with its LED lightshow, and the art that's scattered around Silo Park.
Next you're into the bright lights of the Viaduct, its restaurants busy with diners, people clustered below the big America's Cup screens showing racing yachts, and the inner harbour twinkling as the pedestrian bridge lifts up to let a boat through. Night is definitely the best time to head to the end of nearby Queen's Wharf, where the Lighthouse installation dazzles in the dark, and Captain Cook inside shimmers with coloured reflections.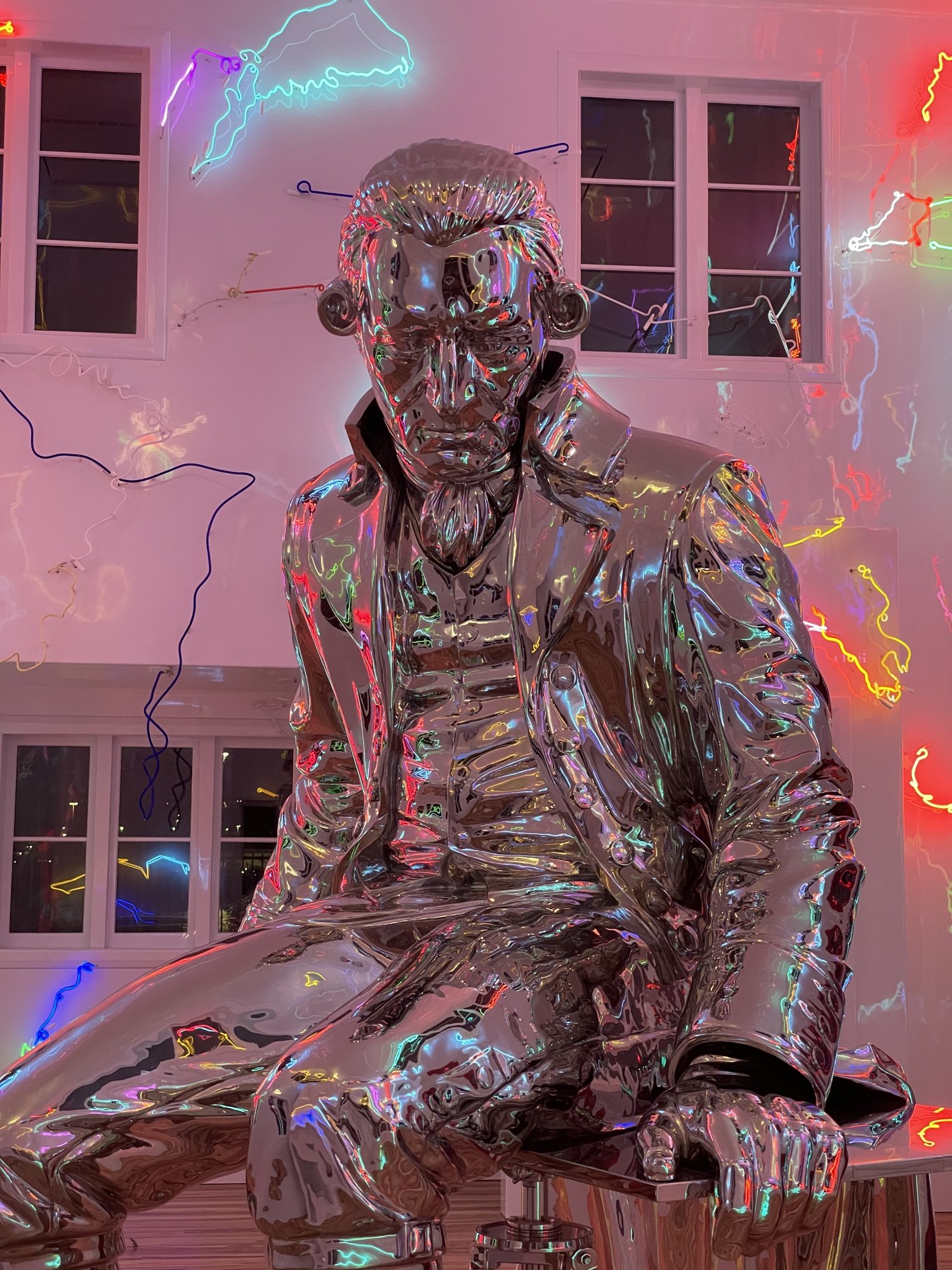 It's just a short ride up the hill now to the end of the tour, but there's no doubt you'll be heading back down to the waterfront to continue your evening's entertainment, and Eddie has plenty of suggestions for that.
He will also be sending you the photos that he's been taking of you along the route, and a nifty GPS map showing the exact route you took, so that you have a memento of your journey. It also goes without saying that you will forever after be a convert to
electric bikes.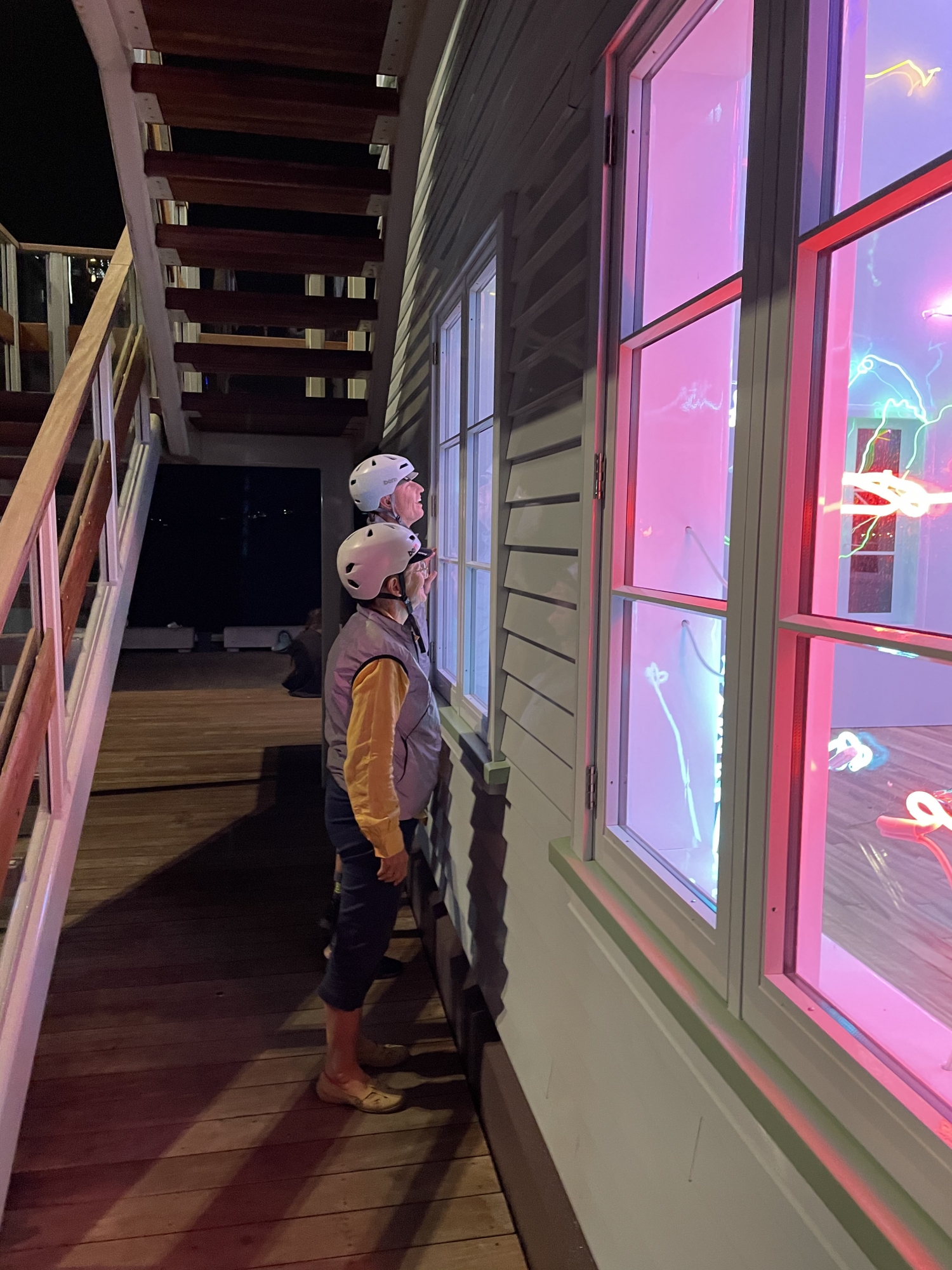 Details
Power to the Pedals
offers a variety of tours. The City Lights tour is $85 per person, minimum age 14, maximum four people. The three daytime tours, for bigger groups, are the $105 Easy Rider, a waterfront cruise from Mission Bay to the Bridge; the Inside Loop, also at $105; and The Classic, a thorough 3.5 hour exploration of the inner city for $135. There are also custom tours available on request. All tours begin from the car park underneath the Pullman Hotel.