Newmarket
Considered by many to be Auckland's premier retail centre (and fashion capital!), Newmarket has a high density of shops and a great selection of trendy bars and restaurants, making it a popular destination for city dwellers who prefer to get away from the hustle and bustle of the CBD.
The city's second-busiest railway station (also the second-largest in the whole country), is a modern structure, opened in 2010, which carries on Newmarket's tradition as an important rail hub. Dominated by Broadway, running north to south from Parnell to the motorway, there are over 40 designer stores in Newmarket, a well-thought-out mix of high end designer shops, some smaller, more eclectic boutiques, and an impressive array of homegrown talent, like Annah Stretton, Kate Sylvester and Karen Walker.

The Westfield 277 mall is fantastic if you like all your shops in one place (there's also a handy food court), but try and explore the interesting back streets off Broadway, too, where you'll find some great artisan stores selling everything from arts and crafts to books, homeware and some special gifts. With over 100 shops in all, Newmarket is the ideal sanctuary for when the retail therapy fairy comes knocking.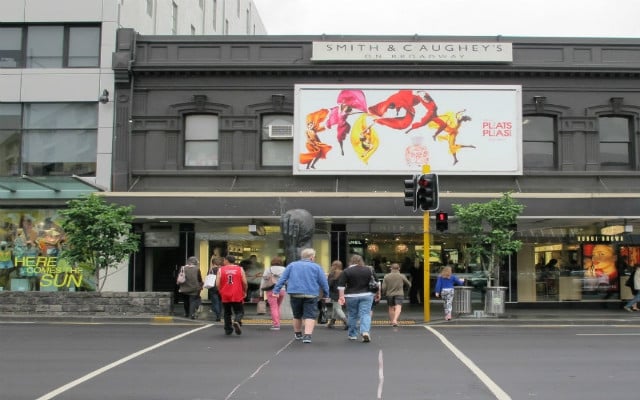 It's not just cutting edge fashion you'll discover here, though - Newmarket is packed full of trendy bars and restaurants, and it's this welcoming cafe culture that makes the area such a natural choice for lunch, or just a casual coffee-catch-up with friends.
But if the shopping gets too much, Newmarket offers a whole host of other things to do. Take a dip in the indoor Olympic Swimming Pool, relax with a movie at the 1920s Rialto Picture Theatre, or go ten pin bowling on York Street. There's also a fantastic heritage walk, taking you around Newmarket's many historic buildings including Khyber House, the Carlton Club, and the famous Highwic - a Carpenter Gothic house built by one of Auckland's most successful businessmen, Alfred Buckland, in the 1860s.