Kauaerangi Kauri Trail to the Pinnacles, Coromandel
Auckland
The track starts by following the route used by packhorses carrying in supplies for the gold miners, gum diggers, and kauri loggers who were busy here from the 1870s to the 1920s. Now the path has been partly civilized with flights of wooden steps and swing bridges, but it's still steep and challenging enough that everyone will consider walking it an achievement. The real reward though is the spectacular 360 views from the summit at 759m: the whole of the peninsula, scattered islands, the sea and Hauraki Gulf beyond, and behind you the Bay of Plenty and Hauraki Plains.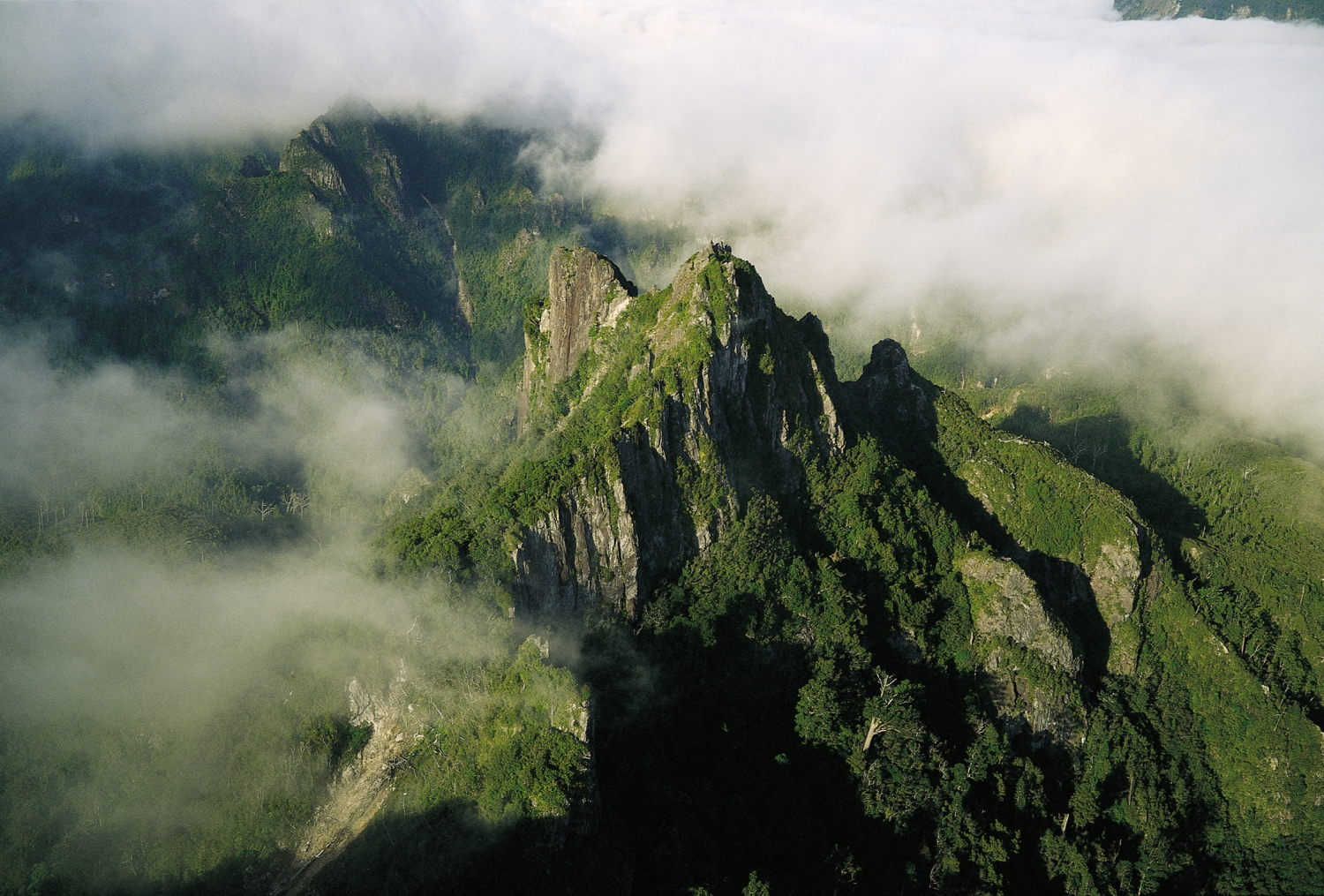 Leaving the Thames, you turn off the tar seal to bump along the gravel to the end of the road 13km away, where you'll find the Kauaerangi Valley Information Centre. Open every day, here you can watch a video about kauri logging, read all about the area, get advice, supplies, and refreshments, and use the facilities. There's a campground too. Kauri dieback precautions should be taken at the boot-washing station provided.

The main track, which is well sign-posted, leads up the Kauaerangi River valley, and you will come across several further campsites and side-tracks of various lengths along the way — these are worth exploring on another day. There are plenty of swimming holes in the valley, too. Once across the first swing bridge, you will soon see the sign to a view of nearby Billygoat Falls, which are 180m high. Back on the main track, you'll start climbing steadily, much of the time up steps cut into the rock for the packhorses, and you'll be glad your own load is much lighter than theirs were. When you get to the Hydro Camp at the top, you'll see evidence of the skids used to move kauri logs, and be equally glad you don't have to do that either. Bullocks hauled the smaller logs, and the loggers also dammed the river to then breach it and send the bigger logs crashing down the valley.

Things are much more peaceful today, and you will have enjoyed walking through the nikau groves and under tall rata trees, listening to the birds, and probably wishing there was still massive kauri growing here. Now you start to climb along a ridge, giving you long views down valleys and across to the Pinnacles themselves, spiky and volcanic, and your target for the day.

Take the sidetrack first to the modern and comfortable Pinnacles Hut to claim your bunk and leave your heavier gear — or, if you prefer to camp, there's the Dancing Campsite near here too, where you'll see the partially restored remains of the second biggest dam in the valley.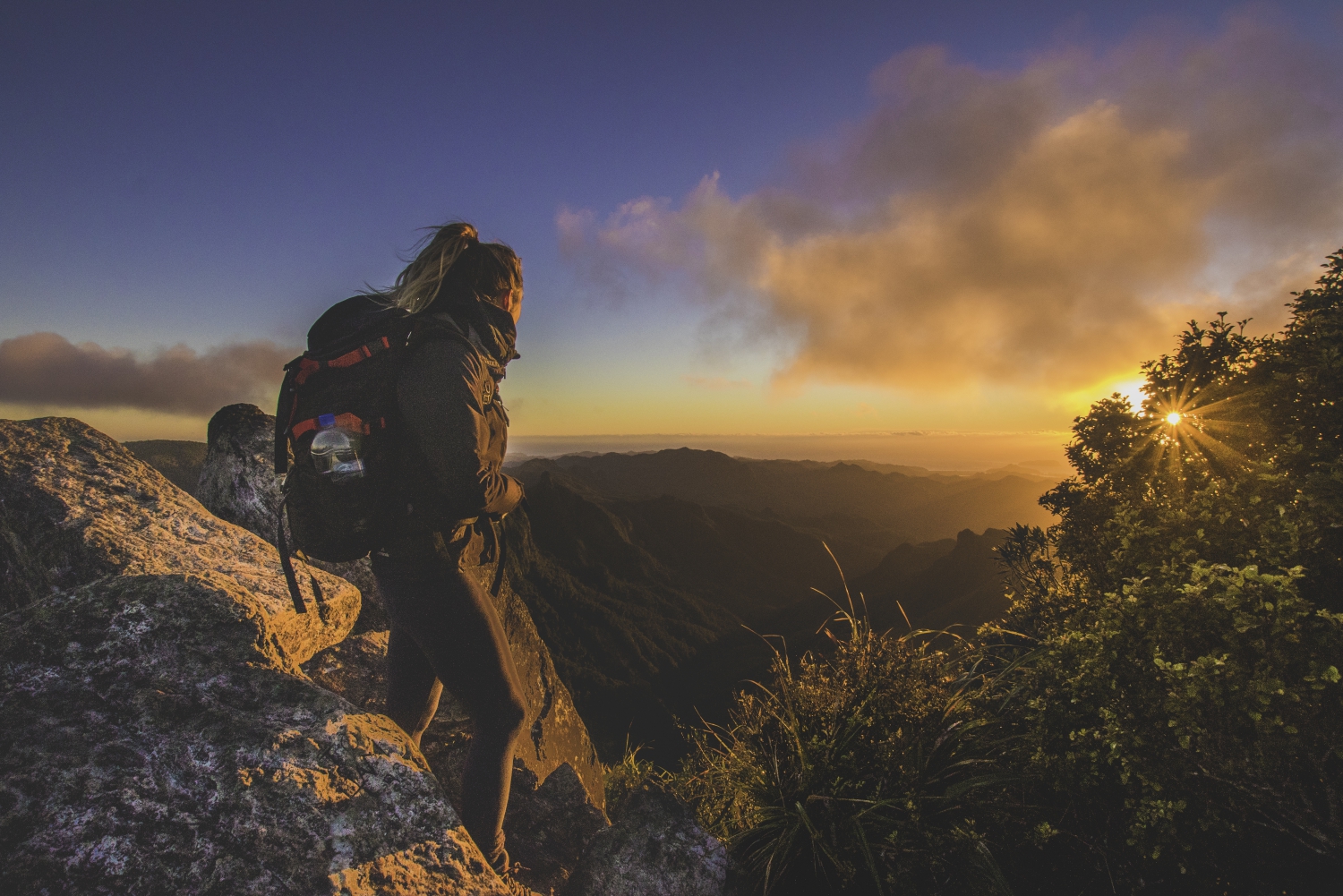 Now your sights are set on the Pinnacles summit, which you'll reach after a short but very steep climb up well-built wooden steps. Then you'll have to climb a couple of ladders, and finally scramble up the last section of rock using metal hand-holds. It's all well worth the effort because once you reach the fenced lookout area at the top, the views over the Coromandel Forest Park are stupendous. It's an exhilarating experience to be what feels like on top of the world, with steep valleys dropping away below you, vegetation clinging to the rocky cliffs.

Because you can see so far in every direction, it's a popular move to aim to be here for sunset or, even better, sunrise. To see those pointy peaks silhouetted against a glowing sky is Instagram gold and an unforgettable experience, especially so since it's always a gamble whether the sun and clouds will co-operate. Even if you don't plan to make the effort yourself, you can be assured that you'll hear others leaving their dormitory bunks in the early morning darkness to try their luck up top.

Back down at the hut, it's time to enjoy the facilities and the company of like-minded people as you reward yourself with a well-earned meal and an early night. In the morning, you can return the same way, or branch off to complete a loop by taking the alternative route back along the Billygoat Track. You'll see the falls from the top this time, and understand why that route was abandoned by the loggers since dropping the logs over the high waterfall made them splinter uneconomically. You'll see trestle bridges along this route too, where trams were used to transport the logs. One of the bridges, now collapsed, was 160m long.

Finally, back at the Visitor Centre, you can take off your boots and start to relish your memories of this brilliant walk.

Details:
Reasonably fit walkers should allow 8 hours to return for the day trip, while the less energetic are advised to walk 3 hours to the hut and stay overnight. The summit is a further 40 minutes away. The walk is very popular and the 80-bed DoC hut is in great demand, so be sure to book a place well in advance. Drop off and pick up transport options are available in the Thames. Don't try to access the Pinnacles from the east, as that track is longer and in very poor condition.

doc.govt.nz/parks-and-recreation/places-to-go/coromandel/places/coromandel-forest-park/things-to-do/kauaeranga-kauri-trail/