Sky Tower SkyWalk
Auckland
A guide to the ultimate Auckland experience
Our Top Experiences and Tours in Auckland:
If youʻre booking your trip to Auckland last minute, we have you covered. Below are some of the top tours and experiences! The Auckland Skytower

Everyone in Auckland knows the

Sky Tower

, at 328m, it's the highest point on the city's skyline from any direction. Since its completion in 1997, taking the lift to the glassed-in observation deck has been a must for all residents and visitors - but there is a much more exciting way to experience that view, with no barriers of any kind in the way.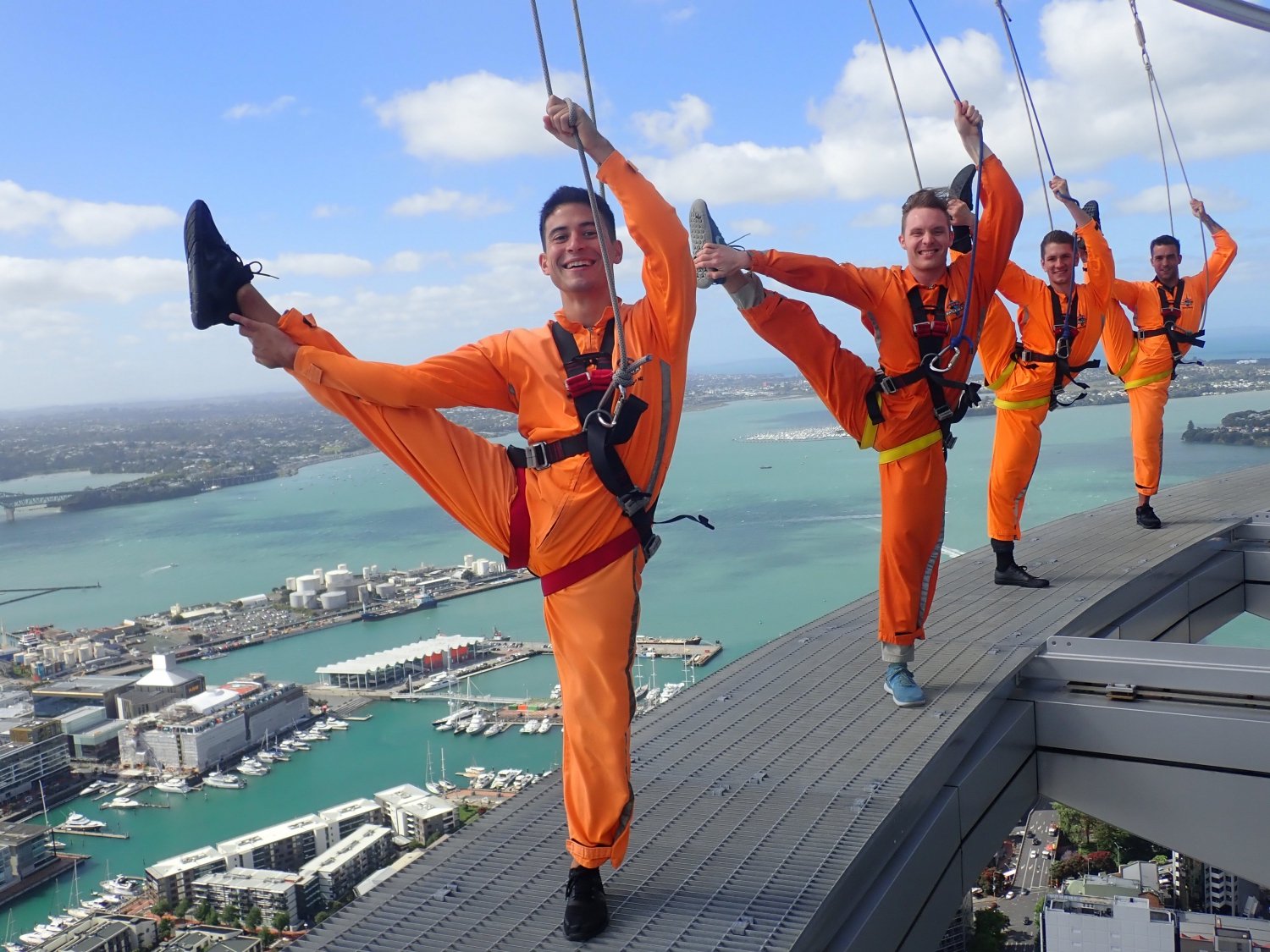 The Skywalk
In an operation run by AJ Hackett, the company famous for pioneering commercial bungy jumping, small groups are kitted out in orange boilersuits and harnesses, hitched up to an overhead cable, and led out to
walk
around the 120m circumference ring that makes up the Tower's widest point, at a height of 192 dizzying meters.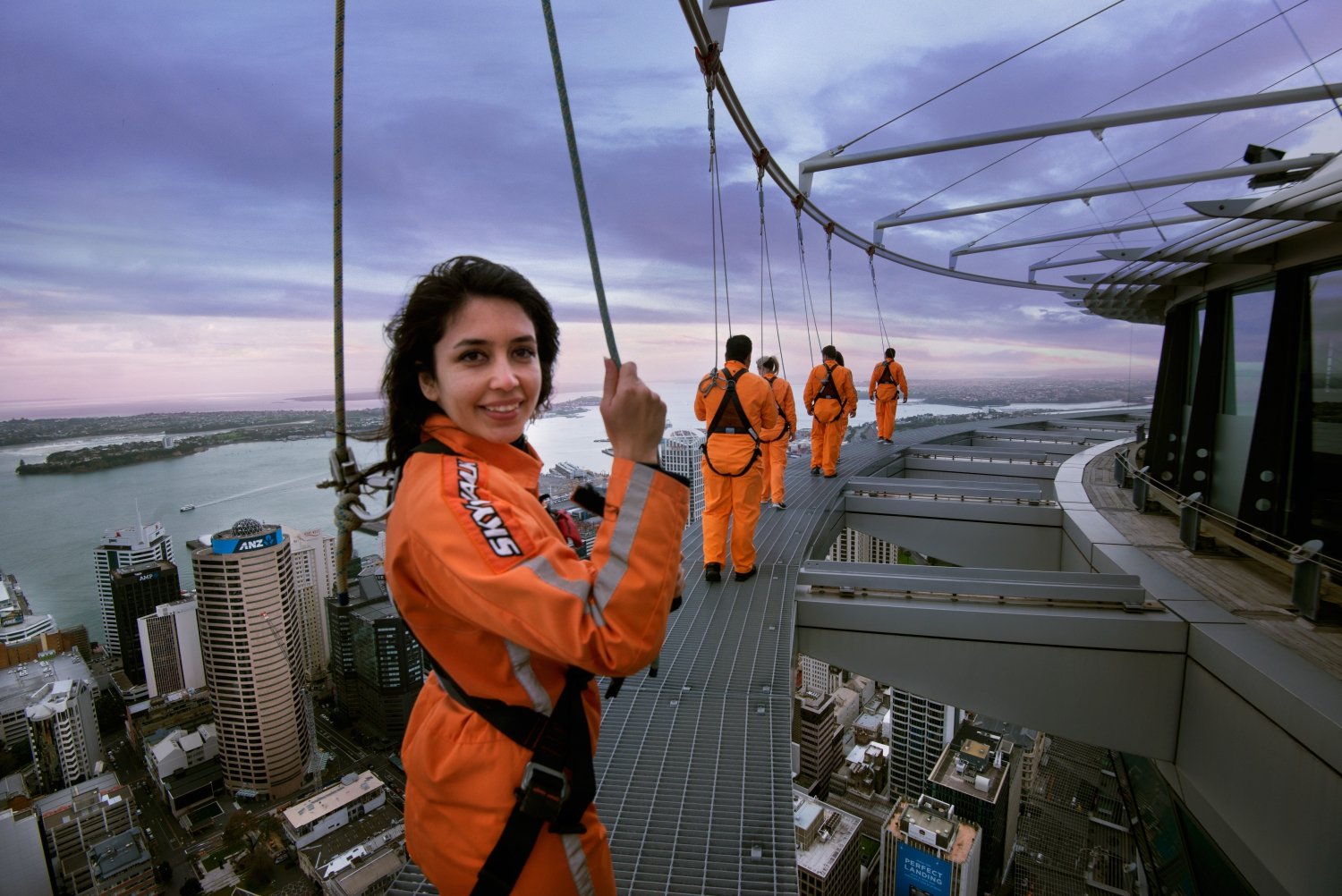 Preparing For The Skywalk
You meet your guides, who are very friendly, encouraging, and professional, and who help you get ready for the
walk
. After taking the lift up the tower, you have to empty everything out of your pockets before getting into your boilersuit and having your harness fitted and checked several times.
You leave all your personal gear, including phones and cameras, in lockers. You're briefed on what to expect, and then go out onto the deck, which is a see-through, but sturdy, metal grid. Your harness is attached by carabiners to two cables, one in front, one behind your back, which are connected to runners on a rail that loops overhead around the tower. Everything is checked multiple times by the guides - safety obviously has top priority.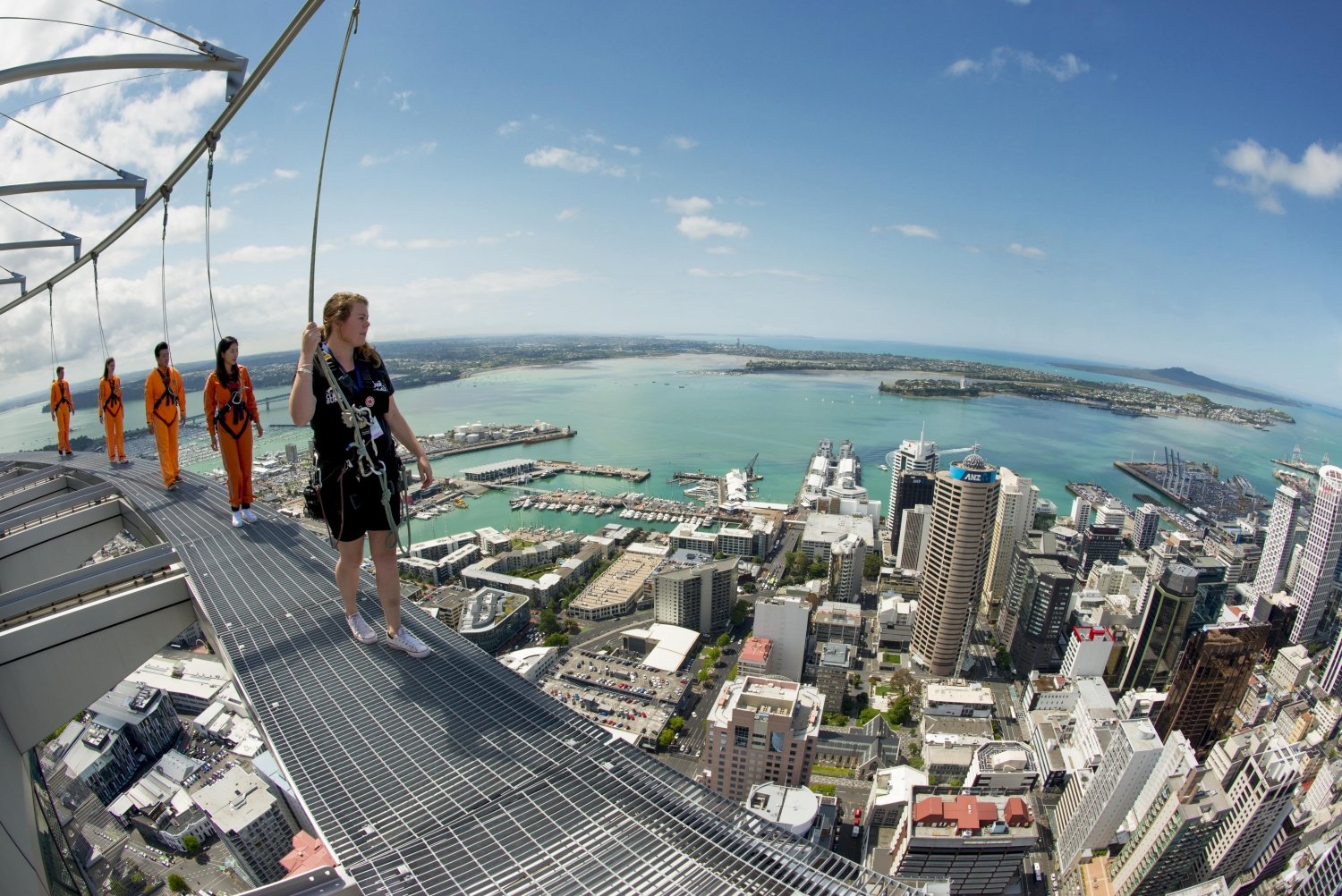 The Skywalk Experience
To begin, you go out to walk out around the meter-wide platform, which has no handrails, looking at the views, having the various landmarks pointed out, as well as posing for photos, and being encouraged to be adventurous. This begins with letting go of the front cable that most people initially grip with white knuckles. Then you work your way through a number of options that include closing your eyes, walking backward, sitting down to dangle your feet over the void, and even standing right on the edge, facing both forwards and backward, for maximum thrills.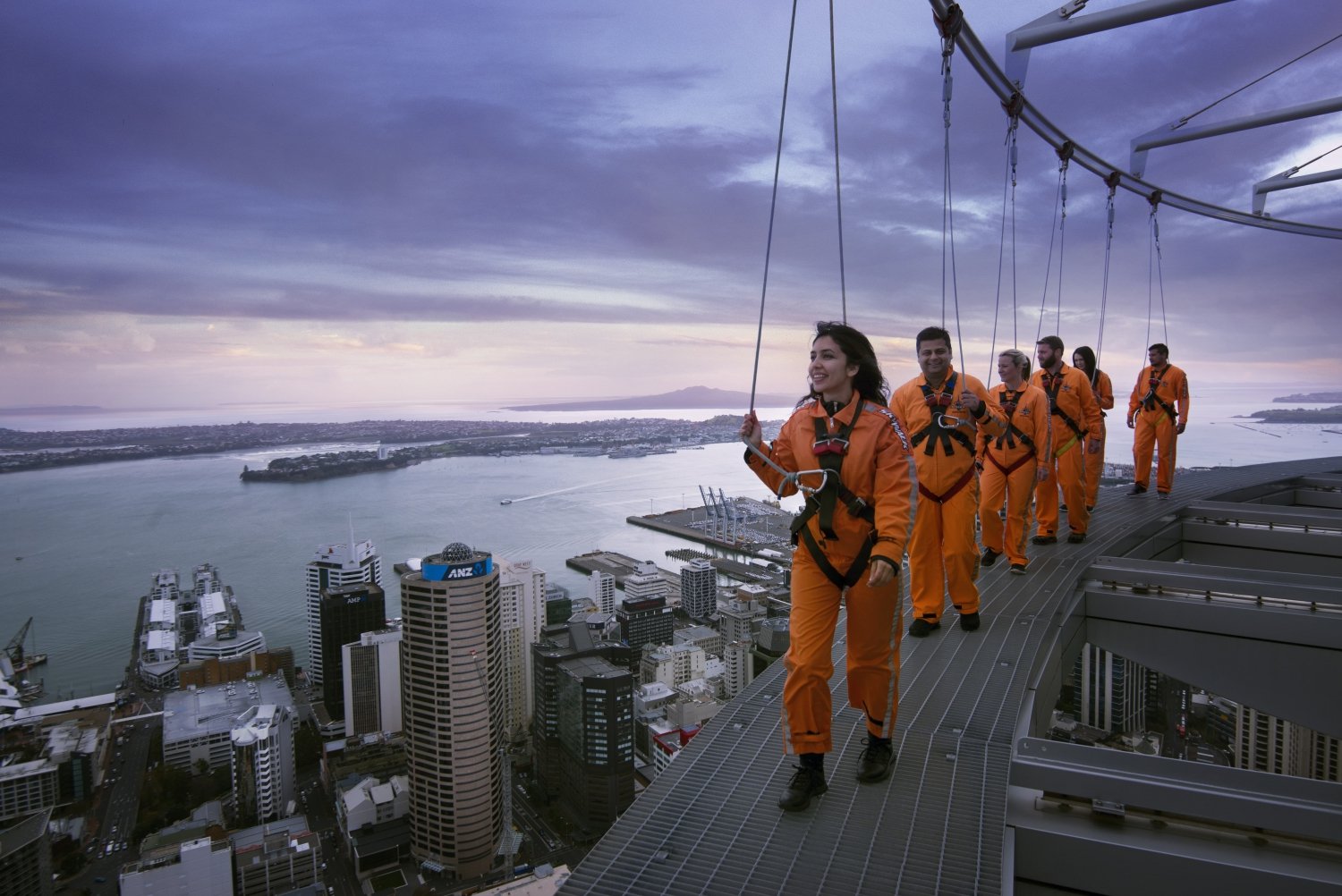 What To Expect
Initial nervousness is understandable, but the guides are very calm and reassuring, so that everyone feels able, with their encouragement, to get a buzz of adrenaline by doing things they'll delight in boasting about afterward - like leaning out from the very edge of the platform, at an angle of 45 degrees, or standing on one leg. But it's not all about the personal challenge: you'll never get a better look at Auckland city, suburbs, and surroundings than from here.
Apart from being impressed by the long views in every direction, one of the most surprising things is how flat this hilly city looks from above. It's great fun to look down on the toy-sized cars below, and even tinier people; and also to get a literal overview of the city, and see how it all fits together, from the Waitakere Ranges to Rangitoto, from Long Bay to the Domain and beyond, cut through by the motorways and surrounded by sea and bush.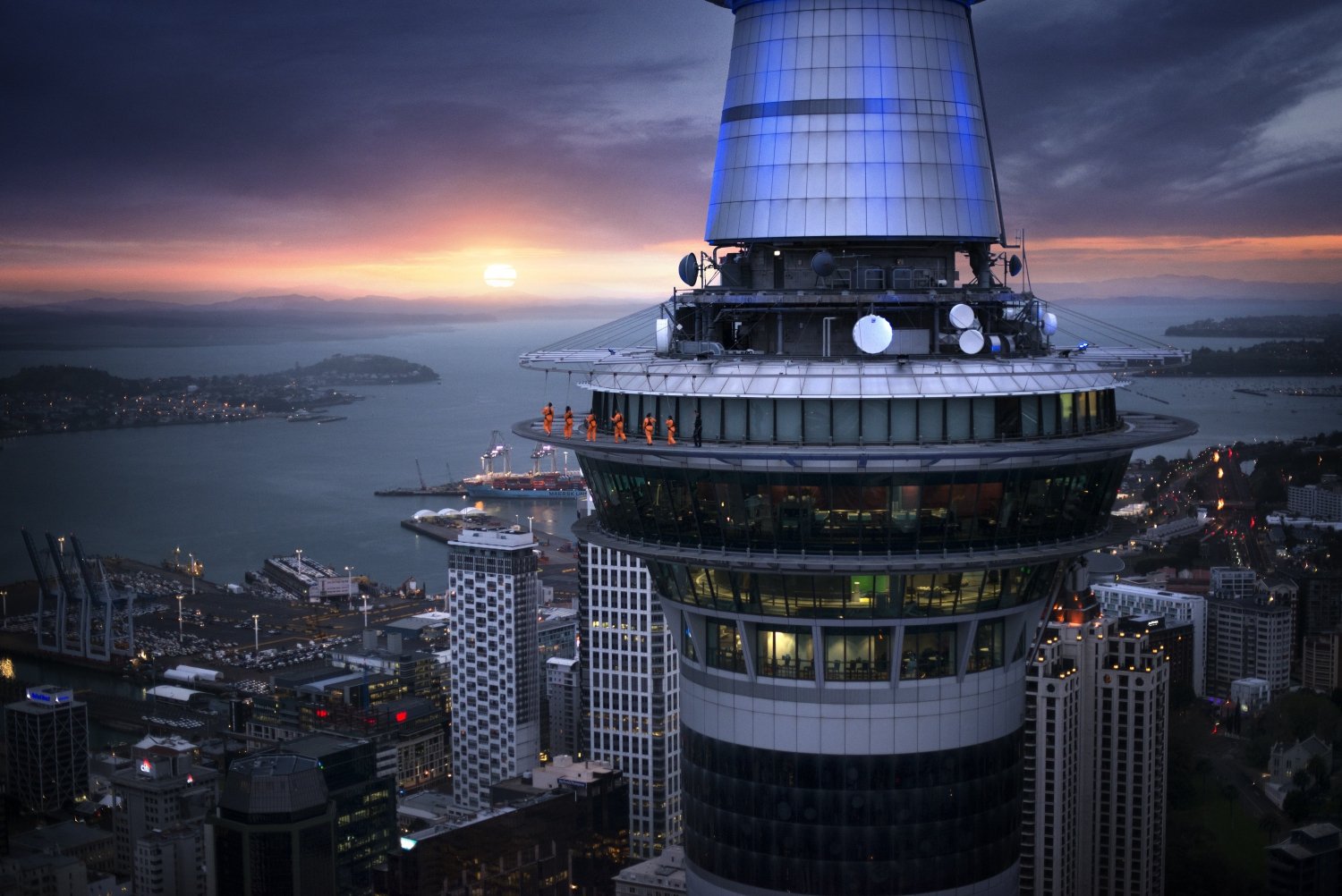 The Auckland Skyjump
You might find that your experience coincides with that of someone who is even more adventurous.
The SkyJump
, which is run from the same level, is not a classic Bungy jump, more a controlled fall where jumpers are harnessed to a cable which then drops them feet-first down to street level 53 floors below. The first few seconds feel like a thrilling free-fall before the cable takes charge and lowers them at 85km/h. You will
walk
past the platform where they stand, screwing up their courage, before launching themselves at the countdown - or perhaps not, the first, or even second, time.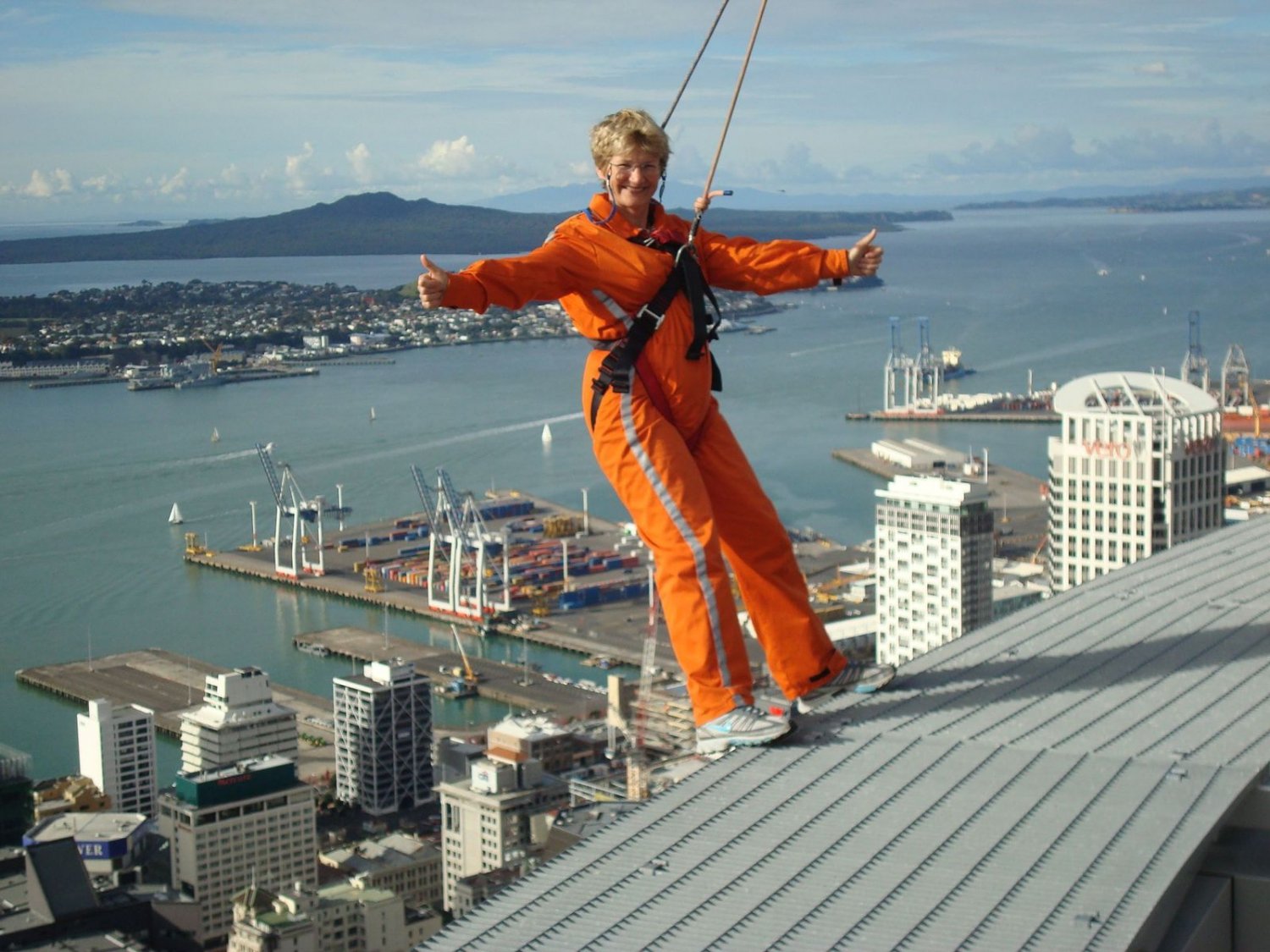 More Info:
For more details, visit
www.skyjump.co.nz