Guide To Auckland Shopping
From small, designer boutiques and craft markets, to huge commercial shopping malls, Auckland offers every kind of consumer experience.
Queen Street
The casual shopper will be happy to stay around Queen Street, where the cafe culture is conducive to just strolling and browsing with the odd cappuccino thrown in. The three kilometre road is home to Smith & Caughey's department store, New Zealand's oldest, which is worth a visit for the Victorian interiors alone. It's also where you'll find a number of gift and souvenir shops, designer clothing stores and a few electronic stores.

At the lower end, close to Quay Street, is Commercial Bay Shopping Mall, featuring over 100 fashion, beauty and dining locations.
The Ground Floor features the flagship retail while Little Queen St features a collection of local NZ fashion designers. Level One combines more 'highstreet' unisex and menswear fashion with established brands alongside emerging New Zealand. Level Two comprises of the largest food and beverage offering in the country.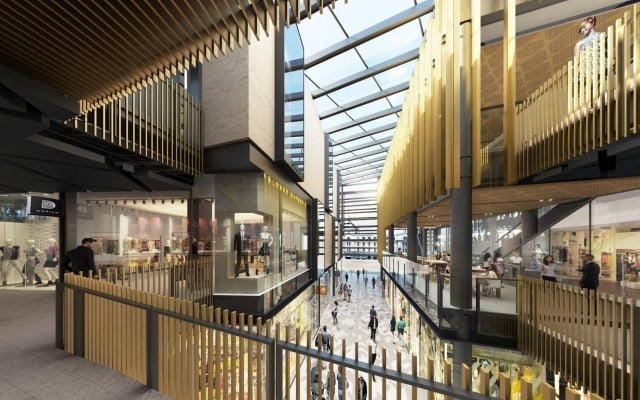 Those who like to graze while they shop, will definitely want to sample the delights of Elliott Stables Epicurean Village – a distinctive collection of restaurants to the rear of Smith and Caughey's on Elliott Street.
Chancery

The Chancery is a compact, cobblestone courtyard filled with high-end designer labels and restaurants. Just off the main strip of Queen Street, it's the place to head to if you want to find a secluded spot in the city for lunch and upmarket shopping.

Britomart

Situated just off the lower end of Queen Street, the trendy district of Britomart is where you'll find the latest fashions, trendiest bars and most exciting restaurants. It's a 6.5 hectare area of Victorian heritage restorations, Edwardian buildings, modern high-rise buildings, designer shops, cocktail bars, restaurants and apartments.

Atrium on Takutai is a modern shopping gallery housing many of internationally recognised designer brands. Head down on a Saturday to catch the weekly City Farmers Market which runs from 8.30am to 12.30pm.

K-Road

At the top of Queen Street, Karangahape Road, better known as 'K-Road', is an eclectic mix of boutique shops, retro clothing stores, galleries and colour! The street is packed full of cafes and a diverse selection of restaurants mingled with late night bars, night clubs and adult stores. K-Road is the place to head for vintage, second hand, ephemera and other cultural stores.

Newmarket

Considered by many Aucklanders to be the premier shopping district in Auckland, Newmarket is populated with over 100 shops, many of which line Broadway Street. The Westfield 277 mall is the city's leading shopping centre which includes a food court. Get off the main strip, to seek out more interesting stores selling everything from arts and crafts to books, homeware and some special gifts.

Parnell

A 10 minute bus ride to Parnell brings you to the oldest suburb in Auckland and one that has transformed itself into an upmarket, boutique shopping experience. The Victorian buildings of 'Parnell Village' are now home to cafes, chocolate shops, designer home furnishing stores, art galleries and quality restaurants.

On Saturdays, La Cigale French Style Farmers Market is well worth a visit on St Georges Bay Road. Parnell is also home to the Parnell Rose Garden and the Auckland War Memorial Museum in the Auckland Domain.

Ponsonby

The 'dining room' of Auckland, Ponsonby is renowned for its choice of quality restaurants and lively nightlife. Local boutique clothing shops, designer homeware stores, gift shops and trendy cafes have made the area a sought after shopping suburb, just two kilometres from the centre of Auckland.

Ponsonby Central, situated along Ponsonby Road, is a fresh food market surrounded by restaurants and cafes where you can just pull up a chair and enjoy the market atmosphere while you eat.