Exploring Waiheke Island By E-Bike
Adventure Family Fun Food & Drink Hot List Mini Break Retreats & Relaxation
Our guide to taking in the sights of Waiheke Island on an E-Bike
Our Top Experiences and Tours in Auckland:
If youʻre booking your trip to Auckland last minute, we have you covered. Below are some of the top tours and experiences!

You can take a guided tour, or a public bus when you pop over to

Waiheke

, but on a sunny day it's hard to beat nosing around the island by yourself, and effortlessly tackling those otherwise daunting hills, on an e-bike.

Getting There:

It's just a 40-minute ferry ride from the central city to the laid-back vibe of Waiheke. In front of the Ferry Building, get your Fuller's ticket and board the half-hourly ferry across the Gulf to Matiatia.

Getting Your Waiheke E-Bike:

Bikes and Barbers is at the top of the hill from the jetty, and it's an easy twenty-minute walk up, or you can take the bus. Get off at the fancy new library building. It's a simple process to be assigned your e-bike (you can choose the standard one for $60 per day, or the gruntier, more comfortable one for $80) and be shown how to use it.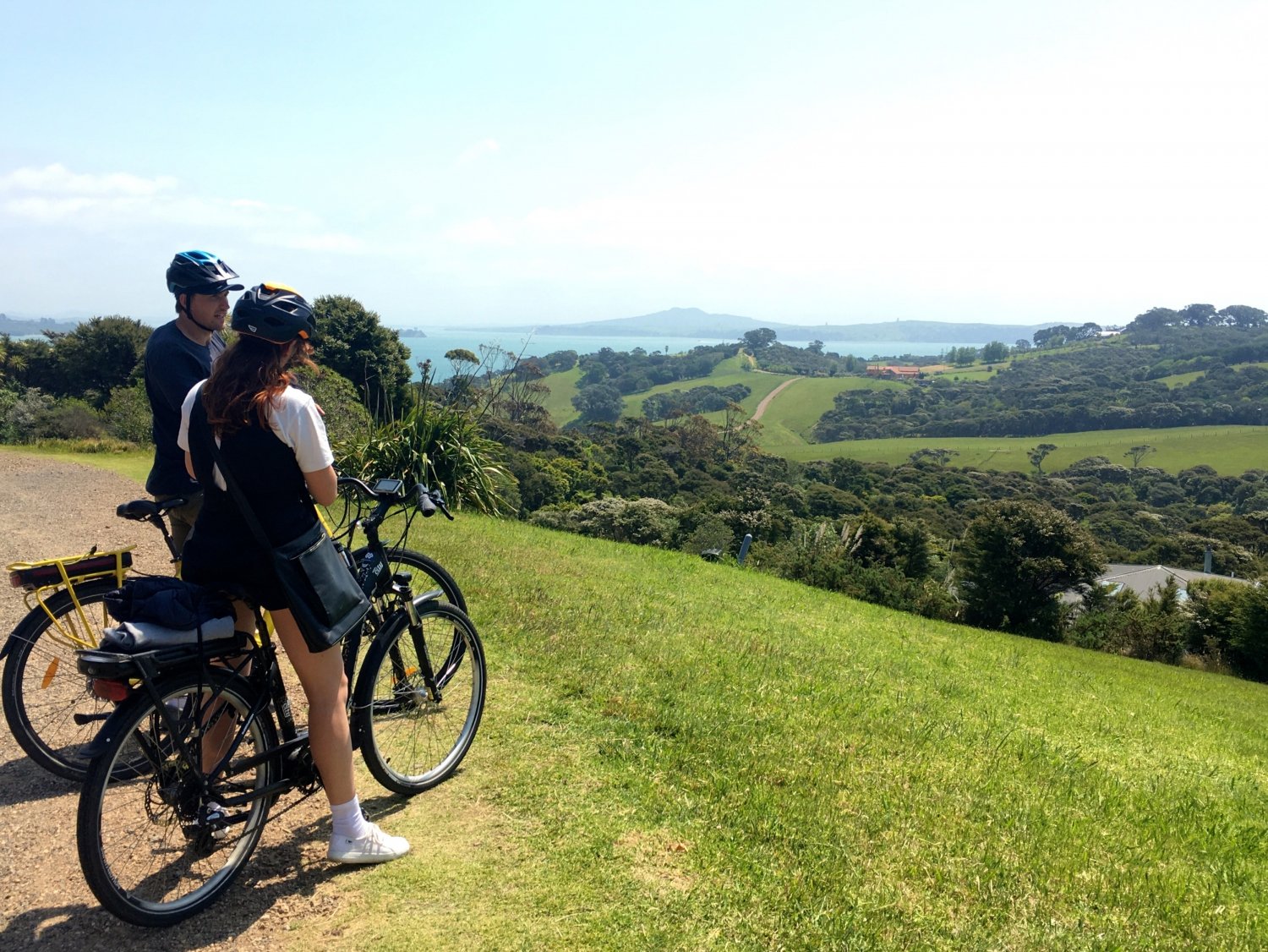 Getting Started On Your E-Bike:
You'll be tempted to have a look around the little town of Oneroa, with its arty shops and inviting restaurants and cafés, and it might be a good idea to get fuelled up with a coffee. Oneroa Beach Club and Wai both have glorious views over the bay, but the coffee is great wherever you go.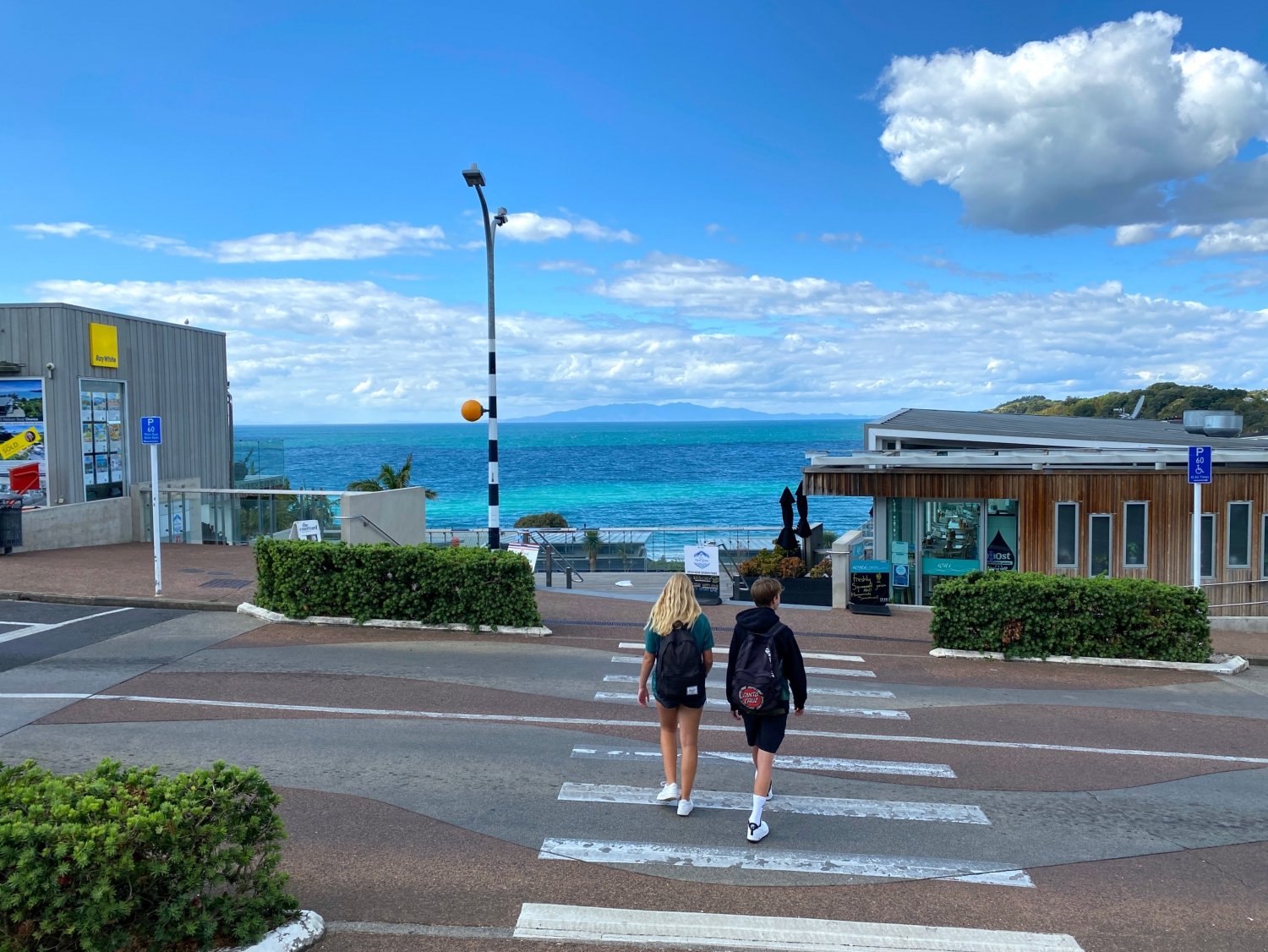 Exploring Waiheke On Your E-Bike:
Head down the main street and out of town, if you want to do the classic circuit (the bike shop will give you a map). You'll see your first beach on your left, so cross the creek for a stop there. Little Oneroa is sheltered and safe for swimming, but you might not be ready yet. Carry on up Goodwin Ave, winding around the bends and getting the hang of the bike's controls. It's so satisfying to press the booster button and zoom up - but don't waste that energy yet!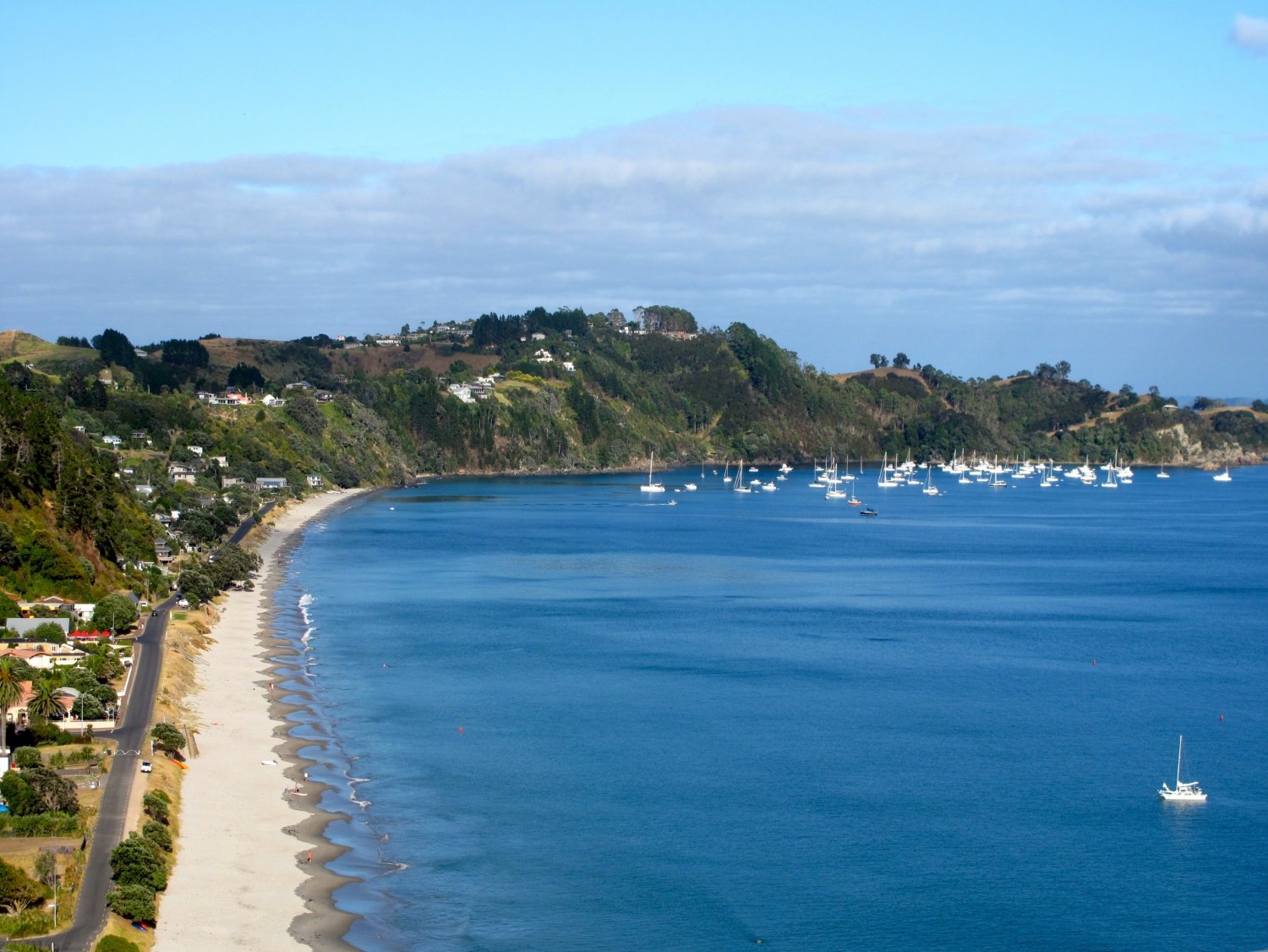 Follow the road above the coastline and make the obligatory stop at the spectacular viewpoint over beaches, bays and blue sea towards the
Coromandel Peninsula
and way out to
Great Barrier Island
. Then wind down for a closer look at Palm Beach, its soft sand and lapping waves so inviting that many people never get any further.
There's a café here, or you could skim along to the end of the road, past some enviable baches (holiday homes) to the Red Shed Arts Collective, to see what's on display. Be aware that, along from here, Little Palm Beach is clothing-optional.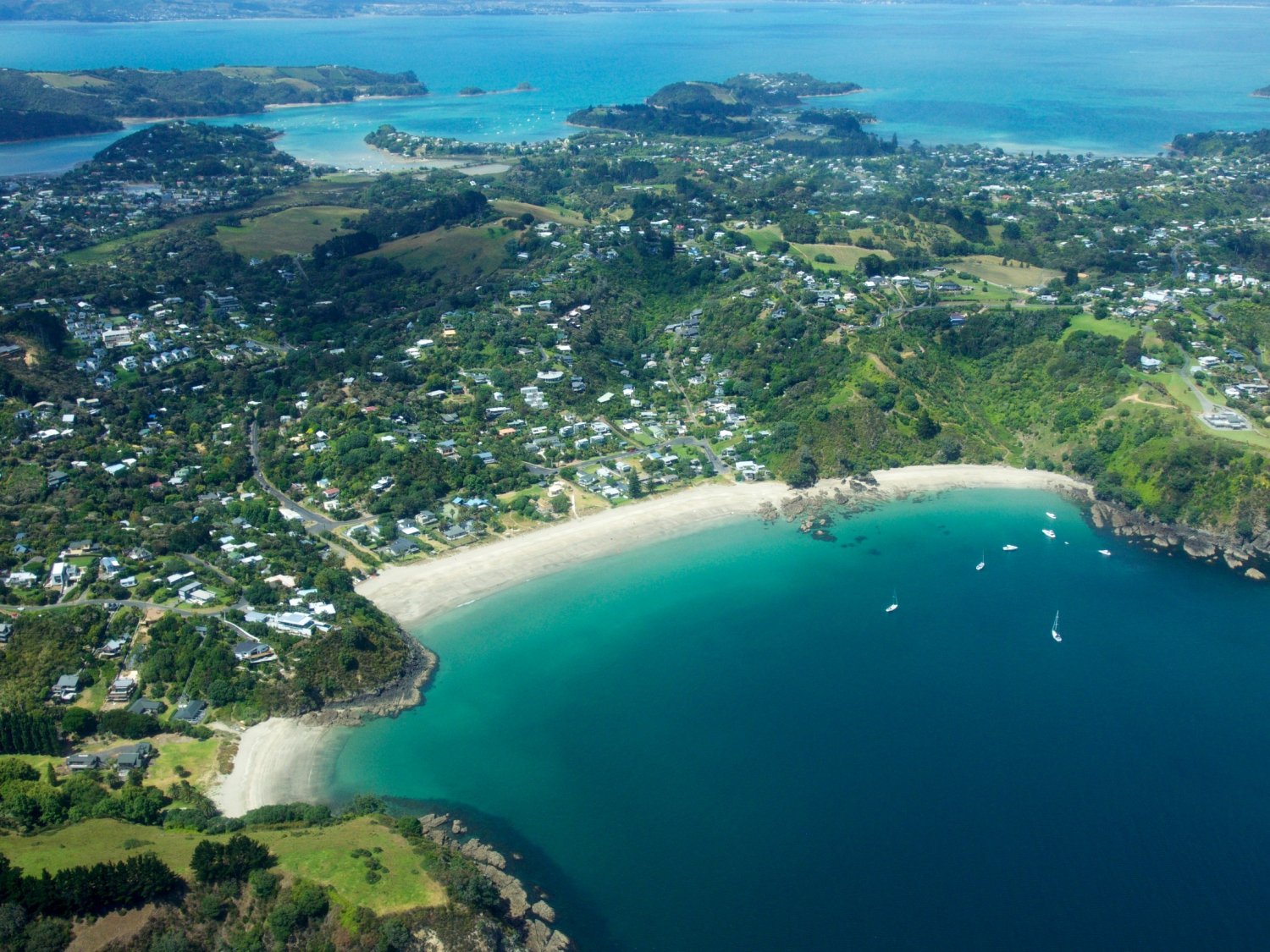 Now head back up the hill and find your way to View Road, and then Sea View Road, which is well-named. Look away from the sea, though, to your right, and you'll see the first of Waiheke's many vineyards, Obsidian, where neat rows of vines march up the hill. If you're interested in a tasting, you'll have plenty of choice: the island has about 30 vineyards, from boutique to world-famous.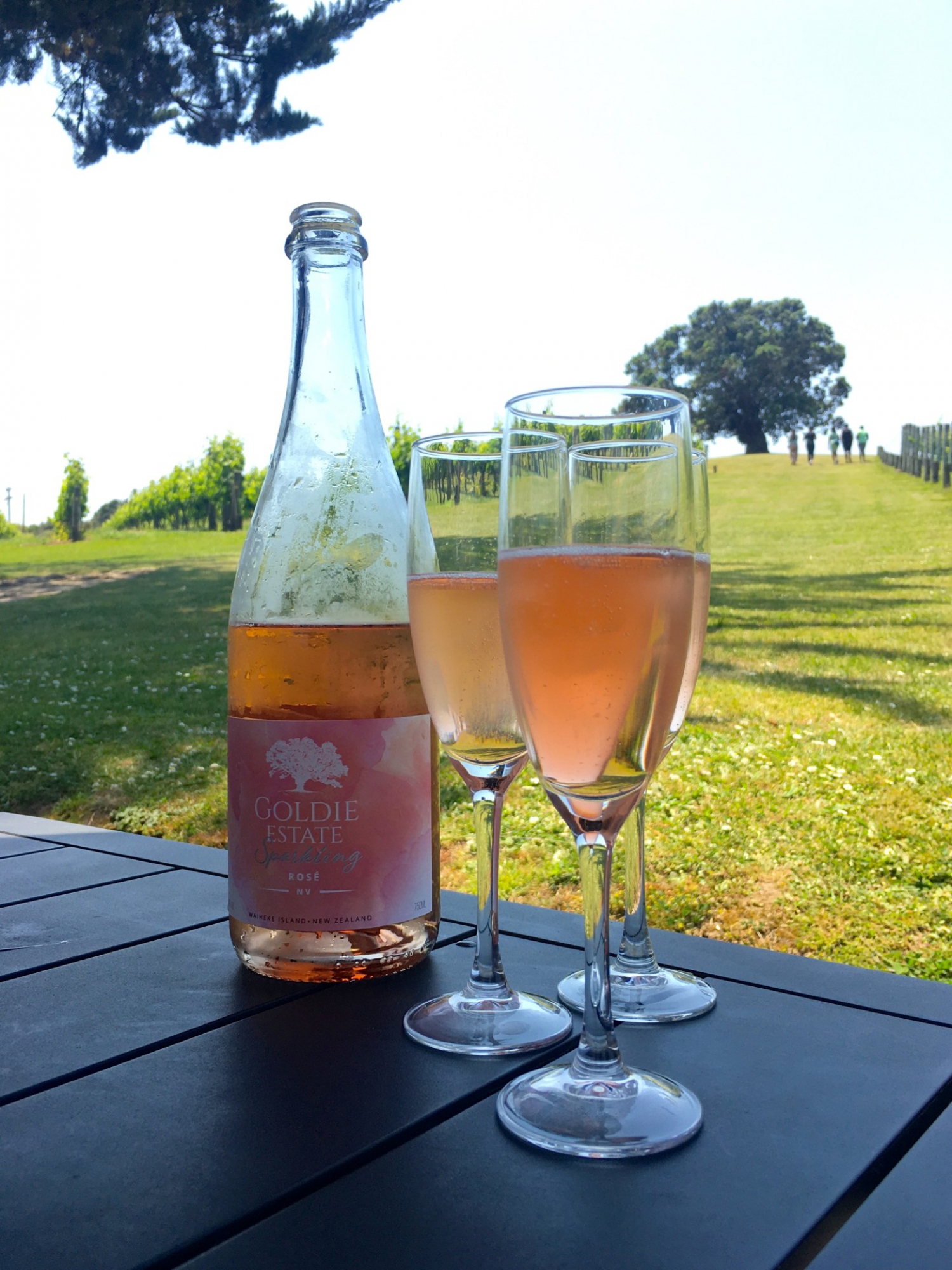 Get some thrills now by zooming down Seventh Ave's zigzags, and emerge onto the wide and glorious Onetangi Beach. It's almost 2km long and the waves are good for swimming and surfing. Again, though, look to your right too: it's fun to count the Sealegs wheeled boats parked in the gardens along here. Can you get up to twenty?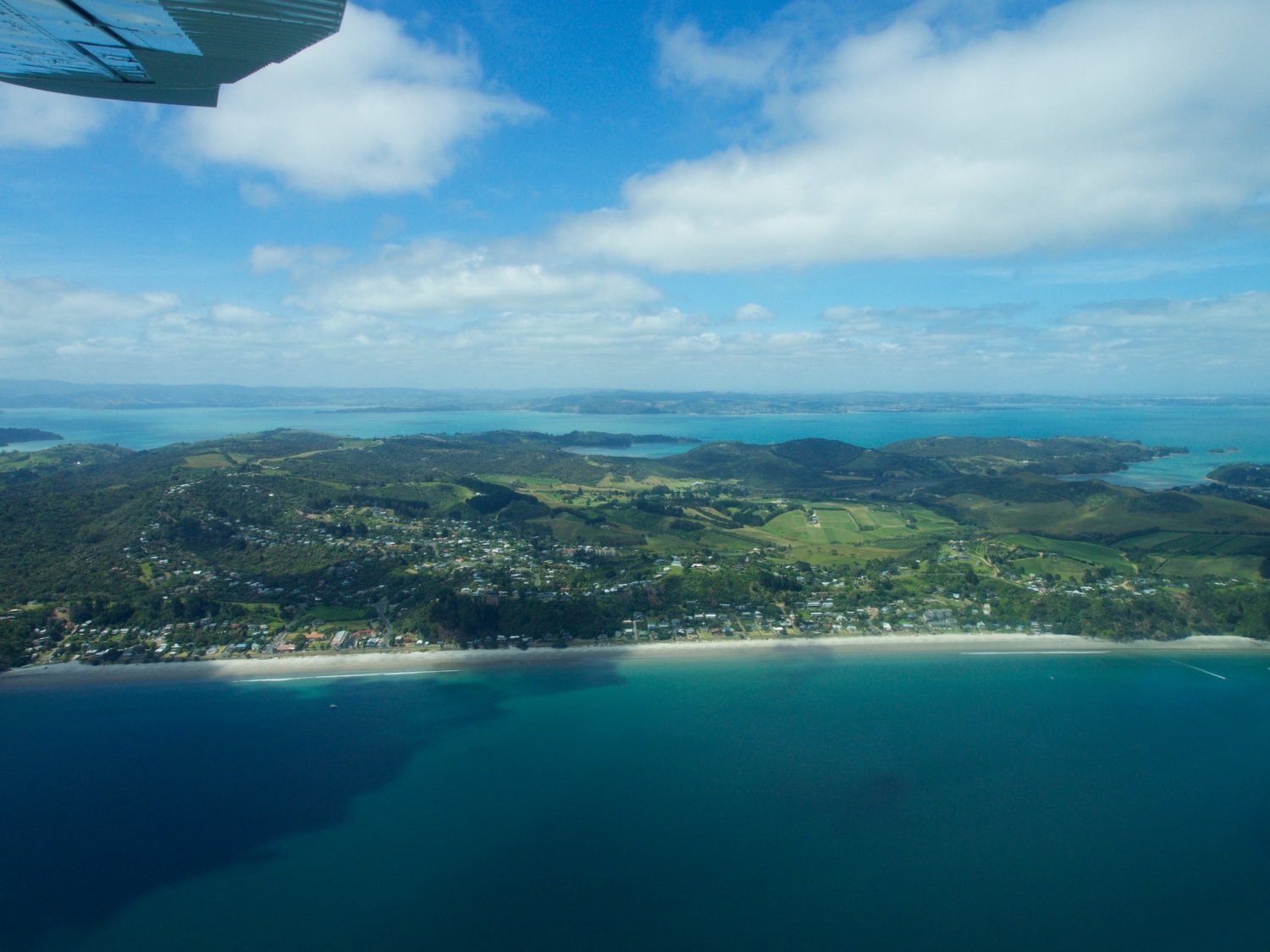 Now you'll have earned some refreshment: there are two restaurants here to choose from. It's always fun to sit outside Charlie Farley's, and the food is excellent. Take your time.
When you're ready to move on, cruise along Onetangi Road and appreciate for once a straight, flat road. There are more vineyards here, but if you want to be a bit more active, visit the vineyard and brewery at Wild on Waiheke, where you can try archery or clay-pigeon shooting.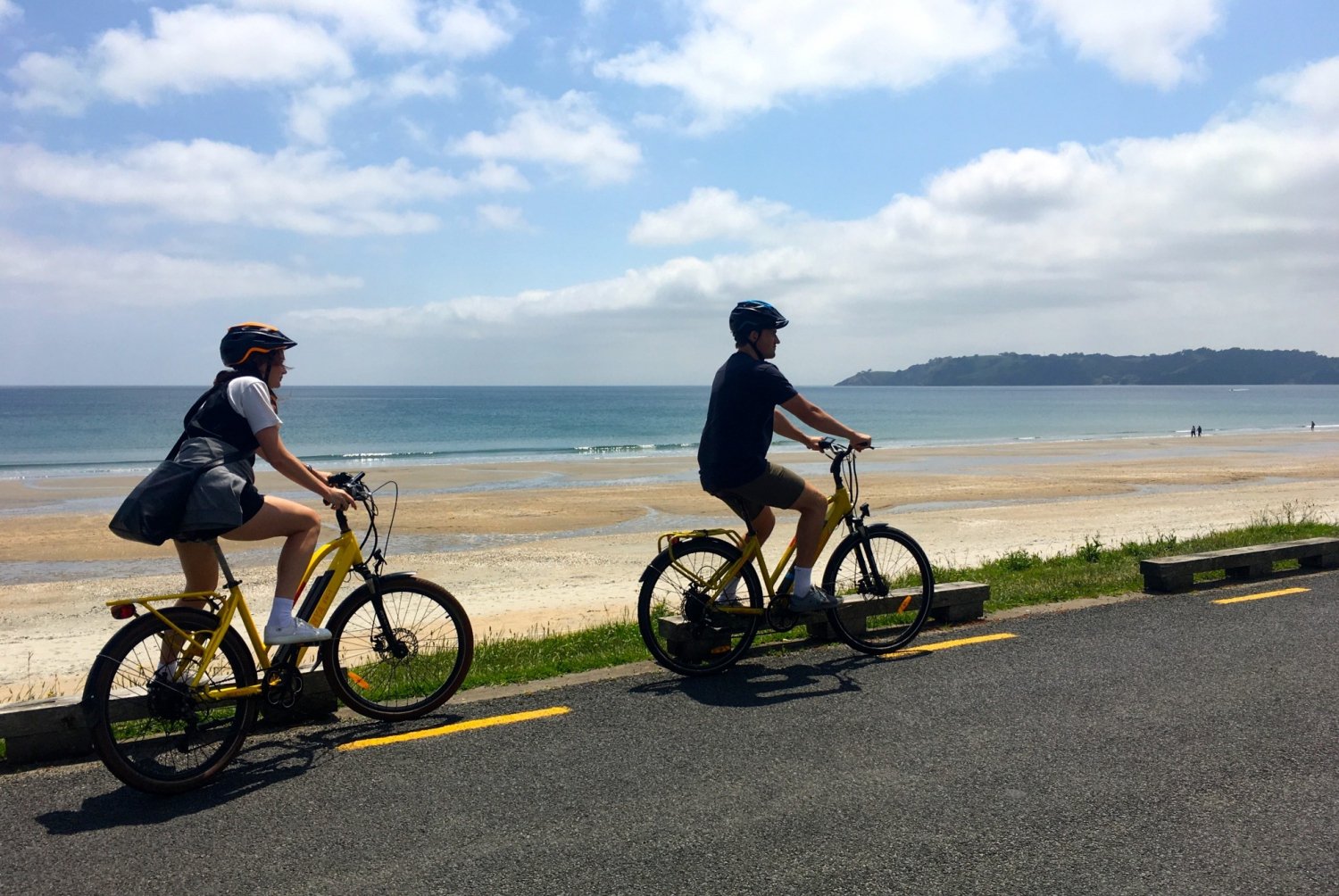 Too energetic? Then maybe the little museum and historical village you come to next is of interest. Or, keep going until you get to the business centre of Ostend, where there are some more arty shops and the famous local Te Matuku Bay Oysters. If you're here on a Saturday morning, there is a market to browse around.
Carry on along the main road, cross over the Causeway (see if you can spot the yellow submarine). Goldie Estate is along here, for a tasting or even a picnic amongst the vines.
Turn off when you get to Blake Street. Now it's quiet again, and you can mosey peacefully along The Esplanade past Surfdale Beach, through a park, and around the point on a now-unsealed road to Blackpool Beach, which is the opposite of its English namesake. If you follow it to its end, you'll go past Piritahi Marae, the cultural centre for the local Māori people, and see on the beach a picturesque wreck: the hulk of the scow Rahiri.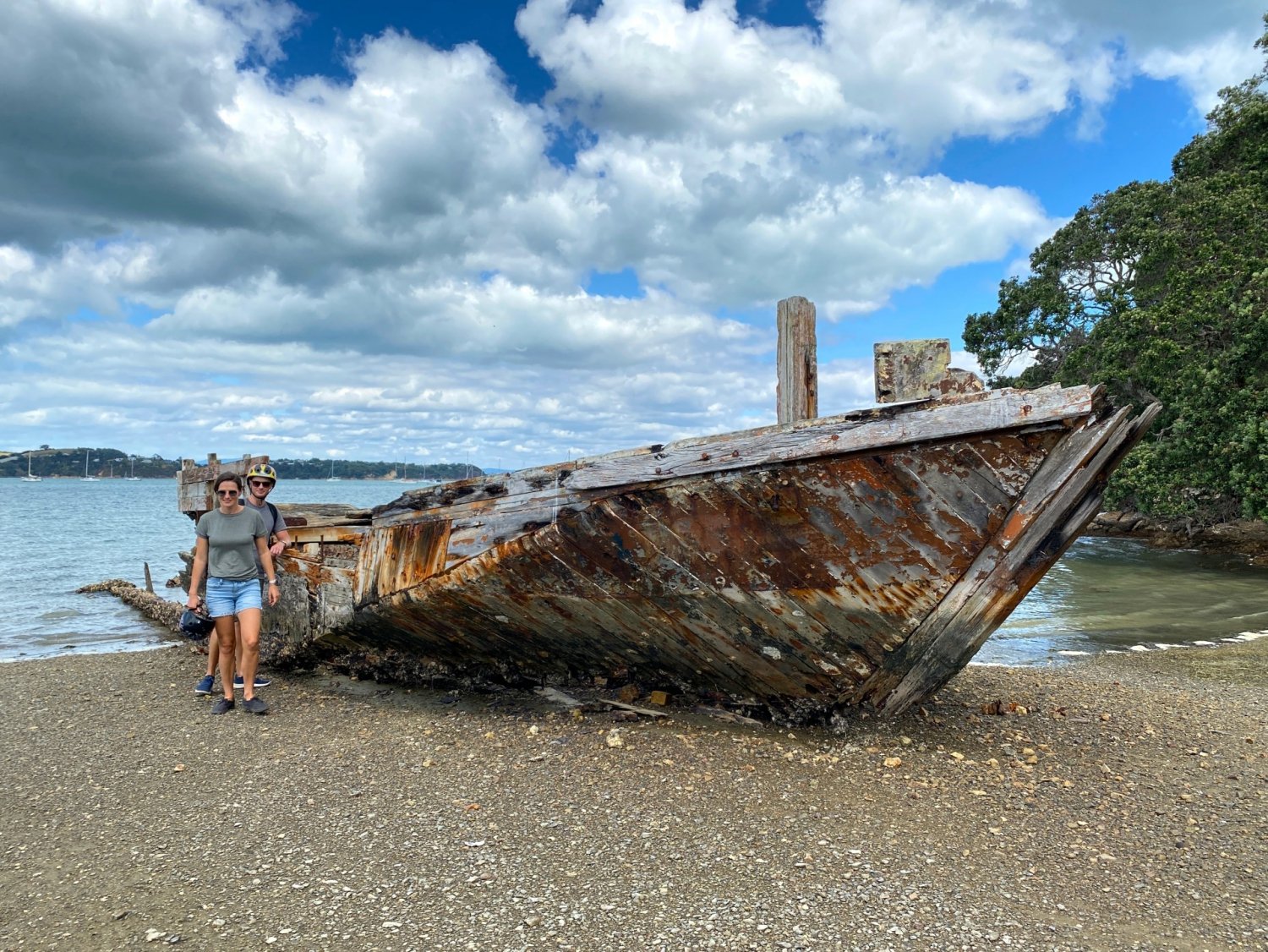 Now you're nearly back at Oneroa with its art galleries, eateries and irresistible Island Gelato stand - but if you want a bit more exploration, follow Church Bay Road to score some magnificent views over the harbour towards the city's skyscrapers and the volcanic hump of Rangitoto. Along here are two of Waiheke's most famous wineries: Mudbrick, with its gorgeous topiaried gardens and lavender hedges, and Cable Bay, where you can sprawl on the lawn on a bean bag and gaze at the view.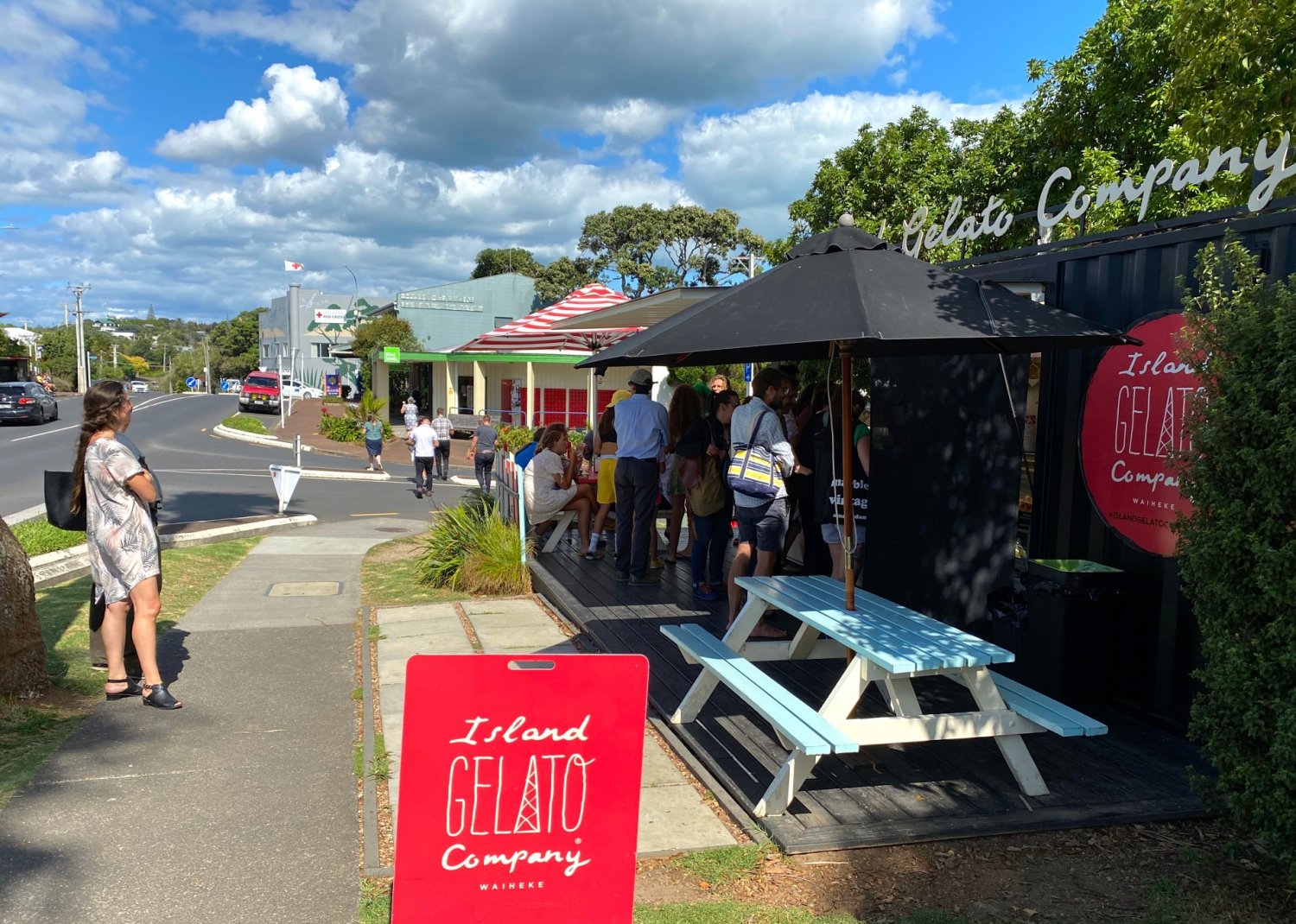 It's wind-down time. Depending on how often you've pressed that booster button, your battery bars might be disappearing; or you've been more robust and have got yourself some decent exercise pedaling (with assistance) up all those hills. There are two things that are guaranteed: if this was your first time, you are now an e-bike convert; and you've earned a reward.
The only trouble is, choosing where to redeem it. Right there at Mudbrick? Or Cable Bay? They both have good restaurants. Or, go into Oneroa and hopefully snag a table at the Oyster Inn, above the main street. Always popular, it's recently been taken over by Michelin-starred chef Josh Emmett, so it's permanently buzzing. Or, for something quite different, go to the Community Cinema and snuggle down into one of their comfy sofas to watch a movie. Ahhh!
Photos by Pamela Wade.