Coromandel
A two hour drive from Auckland city, the stunning Coromandel Peninsula is a favourite holiday destination with locals. There are over 400kms of picturesque coastline, beaches and coves, as well as countless bush-clad walkways. Further inland, you'll find rugged, volcanic hills, cloaked in rainforest, containing the world's tallest fern trees and perfect for hiking.
Because of the region's rustic, unspoilt nature, the area is a magnet for creative types, who arrive here in search of inspiration and never leave. History lovers, too, are attracted by the Coromandel's rich sense of past, particularly evident in the architecture of many of the region's colonial buildings.
Historic Towns
The largest of the Peninsula's towns, is Thames, founded on the site of New Zealand's first gold rush in the early 1850s. Many of the buildings that line the streets still bear witness to the town's mining legacy and a truly 'golden' age. Out of town, a three hour walk on 'Rocky's Goldmine Trail', will reward you with breathtaking views of the Firth of Thames, the native forests and numerous swimming holes.
Another historic town of note, is Coromandel itself, which also prospered during the gold rush. There are some good camping and picnic areas here, as well as arts & crafts shops, and the town is home to Driving Creek Railway; New Zealand's only narrow-gauge mountain track. For walkers and mountain bikers, the dazzling Coromandel Coastal Walkway is not to be missed.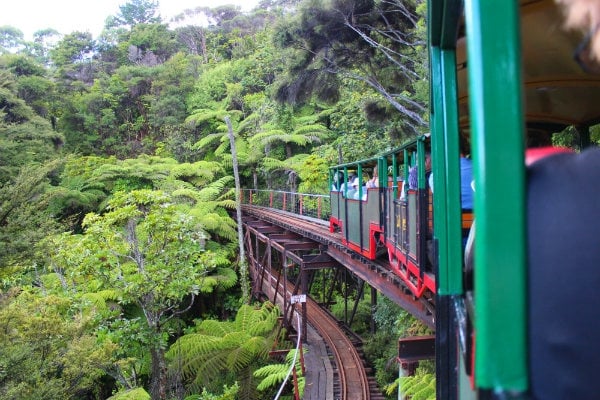 Hot Water Beach & Cathedral Cove
The town of Whitianga is a good base from which to explore Mercury Bay; a hotspot (quite literally!) known for its nearby attractions - Cathedral Cove and Hot Water Beach. Cathedral Cove is an ideal spot for kayaking, swimming, snorkelling and diving. The pohutukawa trees provide welcome shade, from which you can admire the cove's sparkling, white sands and impressive, rocky arches. The Hahei Coastal Walkway track starts at the northern end of Hahei beach and is a 45 minute walk, giving you access to Stingray Bay and Gemstone Bay before you reach the gorgeous sandy beach at Cathedral Cove.
Hot Water Beach definitely lives up to its name. For two hours either side of low tide, visitors can create their own hot pools by digging into the sands; the springs bubbling up underneath are a 'moving' reminder of the beach's fascinating, volcanic past.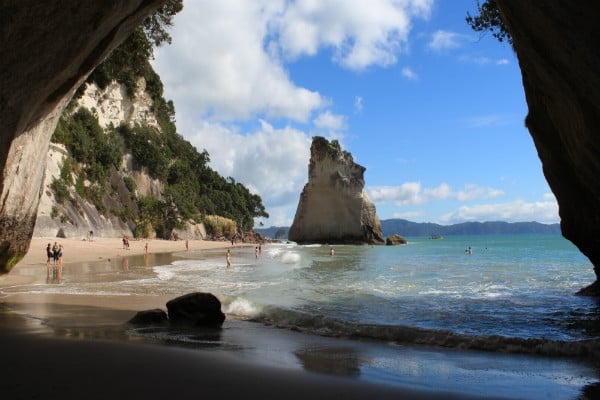 Golden Beaches & Harbours
At Waihi Beach, you'll find 9kms of safe surf beach and the stunning coastal paths will invite you to explore further. A short drive away, Waihi town itself is home to the Martha Mine; a working gold and silver mine. A little further north, and the twin towns of Tairua and Pauanui provide something for everyone - glorious surfing beaches along the coast, and a relaxing, quiet harbour tucked in behind.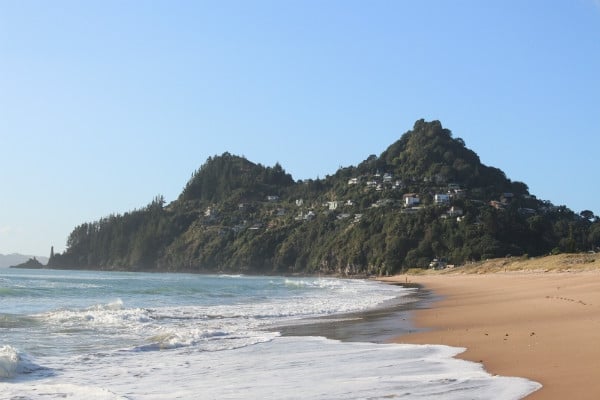 Karangahake Gorge
Situated along State Highway 2, the shimmering Ohinemuri River winds through Karangahake Gorge; the site of the Waihi gold rush of 1875. Visitors can travel back in time by hopping aboard a vintage train on Goldfields Railway, which runs between Waikino and Waihi.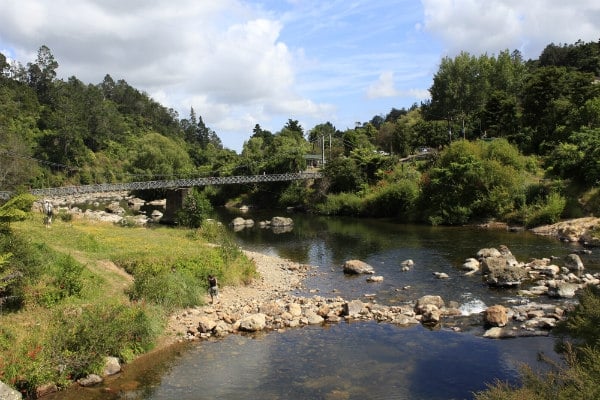 Coromandel Peninsula Towns

Read our guides to the towns of Coromandel Peninsula:

Getting There
The Coromandel Peninsula is just 90 mins from Auckland International Airport and is also easily reachable from the cities of Rotorua, Hamilton and Tauranga. Despite the absence of a commercial airport, independent travellers have no problem reaching the area, thanks to the Pacific Coast Highway, which also links the Coromandel with other, equally-popular destinations such as Auckland, Rotorua and the Bay of Plenty. Or, you can get the two hour ferry from Auckland Ferry Terminal on Quay Street.