Top 5 Day Tours From Auckland
Hot List Inspiration
Exploring the best bits of New Zealand from Auckland in one day
For those that are visiting Auckland, short on time and not intending to tour the country by car or bus, an Auckland day tour is a handy way to get out of the city and see some stunning nearby attractions.

The day tours on offer will either focus on one main attraction to visit or, offer a combination of 2-3 attractions. It's then down to you to pick the tour that appeals most. Small Group tours such as FlexitoursNZ and Auckland & Beyond Tours, allow added flexibility and will create a tour based on the places you want to see.

We've picked out 5 of the most popular destinations to visit from Auckland.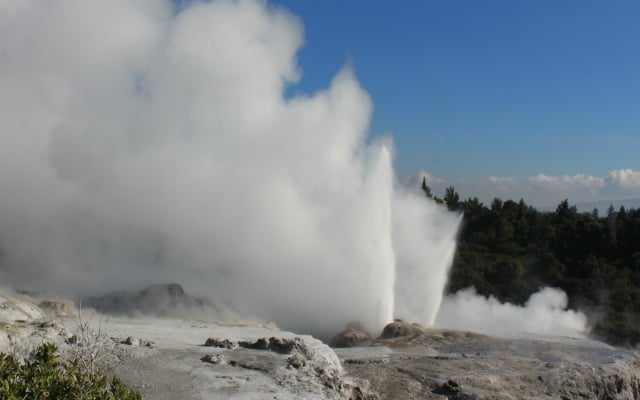 1. Rotorua

Probably the most popular day trip from Auckland, Rotorua is a geothermal wonderland located centrally in New Zealand's North Island and less than three hours' drive from Auckland. The region is famous for its rich Maori culture and extraordinary geothermal activity of steaming geysers, bubbling mud pools and ledges of colourful silica.

Tours will often include a brief tour of the city sights with more time devoted to visiting a couple of the main attractions. Often this will be a visit to either Te Puia or, Whakarewarewa The Living Maori Village which combine both Maori traditions and cultural performances with stunning geothermal sights to behold. As the adventure capital of the North Island, Rotorua is packed full of family activities and attractions so a second attraction visit could include the Skyline Gondola, Agrodome Farm Show or, the hot pools of the Polynesian Spa. With 16 lakes and the Redwoods Forest, there are plenty of other sights to enjoy during a visit to this unique region.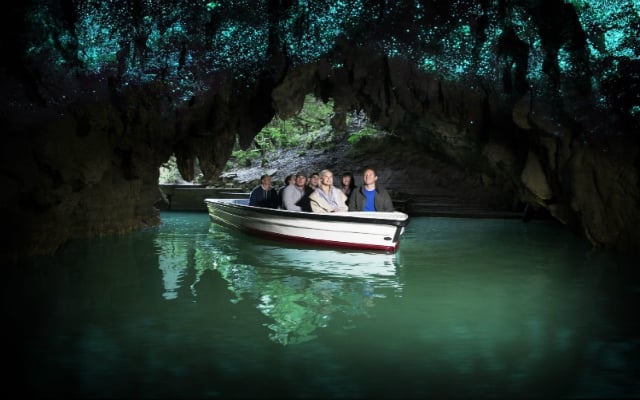 2. Waitomo Caves

Either take a day tour from Auckland that focuses on the Waitomo Glowworm Caves or, combine with a tour of Rotorua and/or Hobbiton. Travelling though the rolling farmland of Waikato, it's a couple of hours drive to the famous glowworm caves. First discovered in 1187, the caves were formed from limestone over 30 million years ago. You will be able to explore subterranean caverns and hear all about stalagmites, stalactites and other spectacular rock formations on a guided tour.

It's then onto a memorable boat ride travelling through the Glowworm Grotto, where thousands of glowworms appear like twinking stars in the darkness. There will be then some time to wander the Waitomo Visitor Complex with its glorious views, learn more about the region and grab a bite at the onsite restaurant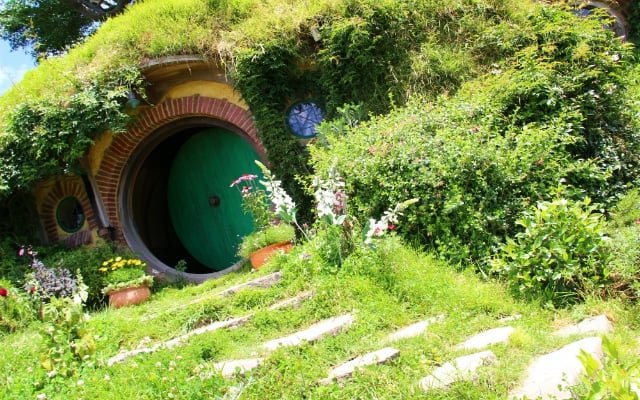 3. Hobbiton

Spend the day visiting Hobbiton or, choose from a number of day tours' that combine a trip to Hobbiton with the Waitomo Caves and/or a visit to Rotorua. For movies buffs and fans of the Lord of The Rings and Hobbit movies, this is a bucket list item.

A trip to Hobbiton features a two hour guided tour around the 12 acre movie site with its submerged Hobbit Houses that line the hillside and rambling paths. Your guide will point out fascinating insights about the set and elaborate on how movie magic was created. The tours will include a complimentary drink at the Green Inn and possibly lunch depending on the type of tour you're on. There's also a gift shop and cafe to visit.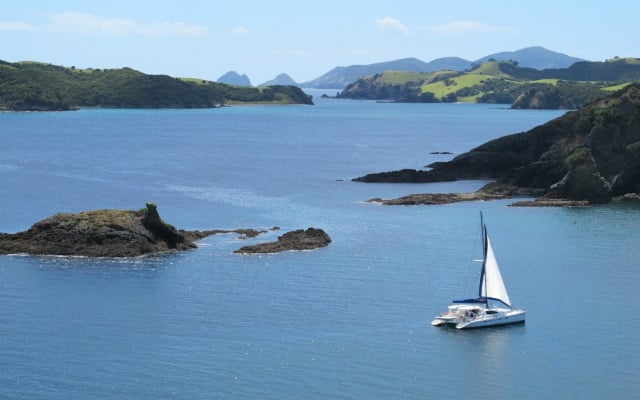 4. Bay of Islands

The furthest destination on our list, means travelling over the Auckland Harbour Bridge and driving a few hours north through rural countryside and sub-tropical bush and onto the spectacular setting of the Bay of Islands. After arriving in Paihia, you'll hop aboard a purpose built vessel for dolphin and whale viewing.

The scenery is a sight to behold especially when the foreground is enhanced by common and bottlenose dolphins, whales and other marine life. The boat tour will cruise past the Cape Brett Lighthouse, before arriving at the much photographed 'Hole in the Rock'. If conditions allow, your captain will navigate through the narrow rock formation before returning to the inner islands of the Bay.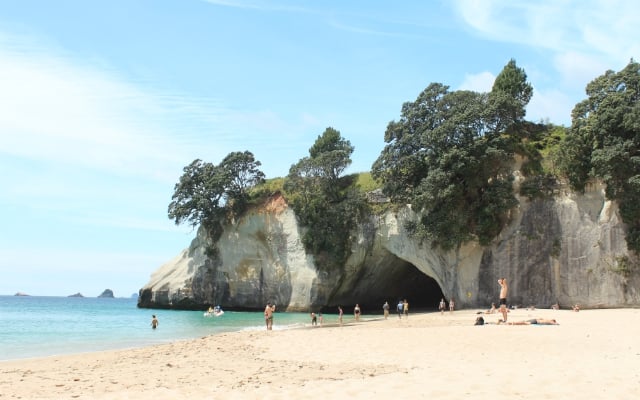 5. The Coromandel

A popular getaway for Aucklanders, The Cormandel region to the east of Auckland is 400kms of picturesque coastline, beaches and coves, as well as countless bush-clad walkways. Further inland, you'll find volcanic hills, cloaked in rainforest, containing the world's tallest fern trees.

Arriving in the small beach town of Hahei, you will climb aboard a small cruise boat to navigate around the sandy bays and coves of the Te Whanganui-A-Hei Marine Reserve. The highlight is the famous Cathedral Cove, named for its cathedral-like natural arch through the limestone cliffs, which can only be reached by on foot or by boat. The tour will also take you to Hot Water Beach. For two hours either side of low tide, visitors can create their own hot pools by digging into the sands and feel the heat of the springs bubbling up underneath.

Auckland Day Tour Basics:

Drinks and lunches will often be included in the tour price.
Larger coach tours will often include free WiFi.
Tours will include pick-up and drop-off at city centre major hotels.
Refreshments and snacks will often be provided whilst travelling.
Choose a smaller tour operator for a more personalised itinerary.
Auckland Car Hire:
If you need to hire a car to get around, you can use our
My Guide Car Comparison Tool
to find the best deals on car rentals in Auckland - Search, Compare, and Save up to 70%!
More Info & Bookings:
Book
day tours from Auckland
More info on
Rotorua
More info on
The Coromandel
More info on
Hobbiton