Whale and Dolphin Spotting In Auckland
Adventure Family Fun
Nearly one third of all the planet's marine mammal species have been spotted in the gulf's waters
Sprawling metropolises are not typically the first place you'd look for immersive wildlife experiences but has something up its sleeve - or off its shores to be more precise. 
The body of water lying east of Auckland known as the
Hauraki Gulf
is teeming with wonders of the living natural kind. Multitudes of marine creatures call the gulf and its islands home, including rare seabirds, a great diversity of fish species and a wealth of both migrant and resident dolphins and whales known collectively as cetaceans. 
These 1.2 million hectares of emerald island dotted ocean are the jewel in Auckland's crown - a rich environment of ages-old cultural, spiritual and historical significance. Māori people recognised the region's natural wealth, settling here in the earliest days of the nation's history of human habitation.
Such riches, when all added together, ensure the gulf's enormous economic significance not just with regard to the region it belongs to but the country as a whole. It is estimated that in excess of 2.7 billion dollars are generated through the mediums of aquaculture, fishing, tourism, shipping and ferry transportation.
However, it is the conservation significance of the
Hauraki Gulf
which truly sets it above and beyond, making it not just a national treasure of immeasurable value but a global one too.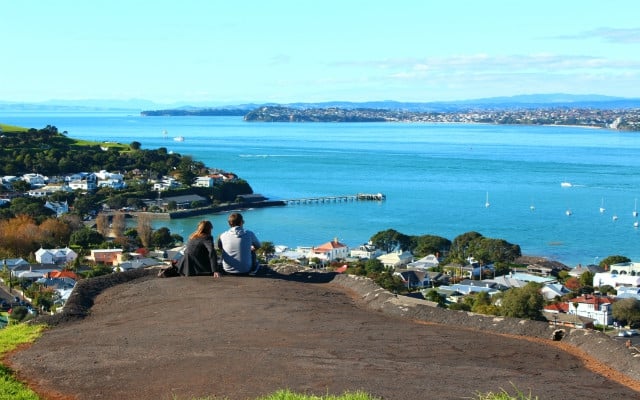 A Marine Park is Born
The geographical and topographical make up of the Hauraki Gulf mean an incredibly diverse range of habitats exist in one relatively small area. These include sandy beaches, rocky coastlines which become exposed reefs at low tide, estuaries, sponge gardens, kelp forests, canyons, shellfish beds, mangroves, mudflats, underwater cliffs and otherwise unique sub-ocean environments.
Such variety in turn leads to the presence of a great diversity of species which either call the gulf home or pass through - several of which are endangered or considered severely at risk from a conservation perspective. Furthermore, the offshore coastal waters are home to many cetacean species.
In 2000, this marine tapestry of ecosystems and rich biodiversity, was officially recognised as the Hauraki Gulf became the country's first national park of the sea - a marine park. Today, the park has five separate marine reserves which fall under its protective umbrella. 
Many of the Department of Conservation and community project-managed islands have striven for - and succeeded in creating - pest-free environments to act as sanctuaries in which vulnerable species of plants, birds and animals can thrive. The whole 'pest-free' issue has especial significance for the flightless New Zealand bird species; they, their nests and their young are particularly vulnerable to non-native predators such as rats, stoats, cats and dogs.
Around 43% of the 50 or so islands are now deemed pest-free and some bird species, previously unknown to the islands, have been quick to recognise the safe breeding environments and started to colonise here.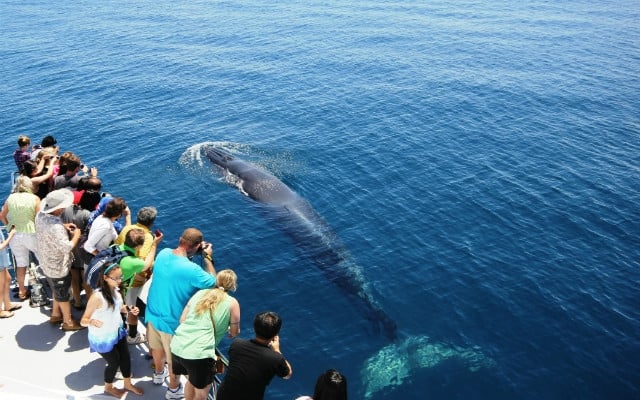 Cetacean Central - A Marine Cornucopia
Both above and below the water, the list of flora and fauna sights possible in the Hauraki Gulf are so extensive they read like a nature's version of who's who. Snorkelers and divers enjoy the company of multitudes of rainbow-coloured fish, sting rays, sharks, anemones, crabs, starfish and playful seals; bird lovers revel in the abundance of sea-birds which include the only black petrels breeding anywhere in the world and a further 20+ breeding species.
This list encompasses several critically endangered species such as the flightless kiwi and takahe along with brown teal and grey-faced petrel. Furthermore, successful reintroduction programmes, most notably on Tiritiri Matangi and Little Barrier islands, have seen the return of several previously locally extinct species too.
However, it is the cetaceans (whale and dolphins) which continue to act as star attractions - so abundant in number they are an almost guaranteed sighting on any foray into the gulf's waters and a relatively common sight from land. 
Whalers and sealers were some of the first European settlers of these lands with more than 200 whaling ships working around the 1830s. Thankfully times change and not only are all cetaceans now protected by law but these days people come to delight simply in the stunning sight of a whale's massive tail fluke or the magical spectacle of a hundreds-strong dolphin school passing by. 
Nearly one third of all the planet's marine mammal species have been spotted in the gulf's waters which include both seasonal visitors and residents, such as the 15 metre Bryde's whales found here year round. Other common sightings include common dolphins, bottlenose dolphins and the magnificent orca or 'killer whale' - actually the largest member of the dolphin family.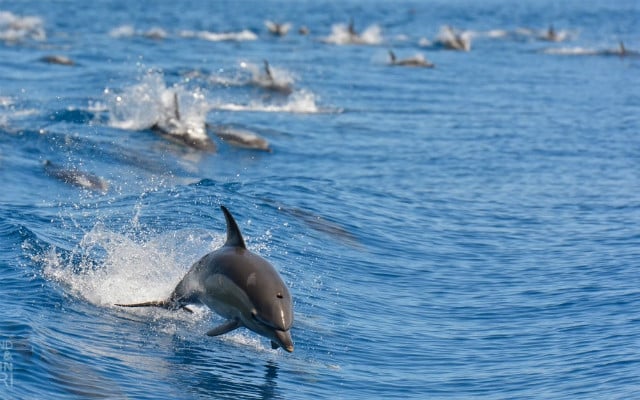 Other possible sightings may include blue whale, long-finned pilot whale, sei, minke whale and southern right whale – so called because they were once the 'right' whale to hunt. Humpback whales also feature on the highly-likely-to-spot list at certain times of year; the Hauraki Gulf lies on their migration route bewtween the Antarctic and the Pacific.
Auckland Whale and Dolphin Safari
state that dolphins are seen on more than 90% of their trips and whales on over 70%, so getting up close and personal isn't just possible but highly likely. In fact this long established company with daily departures are so confident they can take you to where the cetacean action is you can have another trip for free if you don't get lucky.
Island Hopping
Exploring the gulf is easy thanks to regular ferry services provided by
Fullers
. These routes will take you to vineyard-rich
Waiheke Island
– home to the largest of the gulf's islands populations - complete with WWII gun emplacements, walking tracks and a tree-top zipline adventure.
Also on the Fullers schedule is the causeway-linked dual island destination of pest-free
Rangitoto
and Motutapu. Home to the world's largest pohutukawa forest, Rangitoto is actully a dormant volcano while Motutapu is an established hiker's favourite.
In summary, 1.2 million hectares of ocean, over 50 islands, thousands of wildlife species and quite possibly an infinite number of ways to find fun and adventure - this is the Hauraki Gulf Marine Park.
More Info
Photo credits: Auckland Whale and Dolphin Safari except 'Looking out to The Hauraki Gulf'.