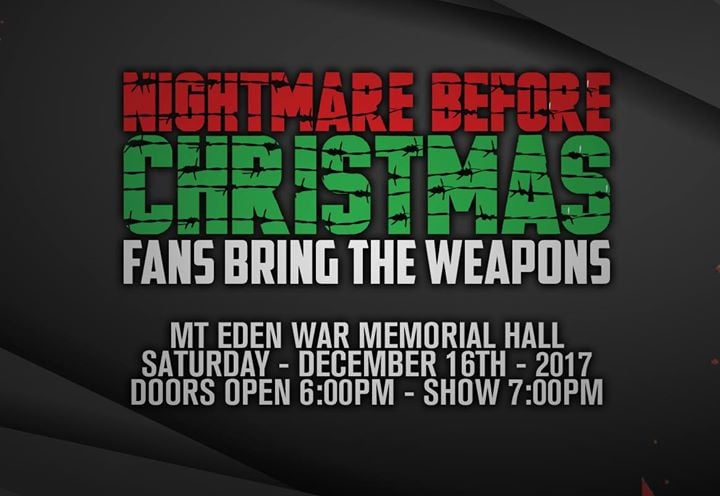 IPW - Nightmare Before Christmas 2017 - Live Pro Wrestling
Mt Eden War Memorial Hall
Sat Dec 16th 2017 at 19:00 until 22:30
---
Auckland
,

Dominion Road

,

Auckland

Auckland
https://www.myguideauckland.com/events/ipw-nightmare-before-christmas-2017-live-pro-wrestling
BOOK NOW
Event Details
Impact Pro Wrestling New Zealand presents the biggest live event of the year Nightmare Before Christmas 2017 featuring Fans Bring The Weapons! It will be anything but a silent night when the stars of IPW explode on the Mt Eden War Memorial Hall for this three hour spectacular.

Fans Bring The Weapons is a match that encourages fans to bring whatever weapon they have at home for the wrestlers to use. From frying pans to Xbox consoles to the kitchen sink, you never know what will end up at the Nightmare Before Christmas. And what the wrestlers will do to each other with those items.

Featuring:

* Fans Bring The Weapons Match for the New Zealand Tag Team Championships
Privileged (Charlie Roberts - Wrestler & Curtis Castlewood) (c) vs The FIST - Friends In Similar Tights (Brodie Coast and Mason Daniels - Pro Wrestler)
* New Zealand Heavyweight Championship Match
Brook Duncan (c) vs Mr Burns (w/ Benjamin Keen, JB Bennett and Oliver Griffin - Your Favourite Irishman)
* New Zealand Women's Championship Match
Britenay (c) vs Candy Lee
* and more to be announced very soon...

An event you need to see live to believe, Nightmare Before Christmas is the pinnacle of the NZ professional wrestling calendar. You don't want to miss this!

Doors open at 6:00 pm. Show starts at 7:00 pm.

Instagram & Twitter: @IPW_NZ.

Note: Fans are encouraged to participate in the Fans Bring the Weapons match by bringing their own instruments of destruction to the event. Fans are advised that they bring items to the show at their own risk and that fans bringing anything deemed to be excessively dangerous or likely to be deemed illegal under New Zealand law will not be permitted to enter with those items. IPW will not bear responsibility for the safe carriage of any offending items.