What a Way to Spend a Day...
Editorial Inspiration
Our guide to exploring Auckland in 24 hours
I've often thought about the perfect way to spend a day in. It's a fabulous city, regularly featuring in lists of the world's best cities in which to live, and packs a plethora of activities into its modest span (1,086 km2, roughly two thirds that of Sydney). But given just a single day, what should one do? What is the most worthwhile use of 24 hours in New Zealand's most populous metropolis?

There was only one way to find out. I chose a warm spring day in October...
8.00am - Breakfast at Viaduct Quay
It's impossible to start a day without coffee, and a coffee overlooking the boats in Viaduct Harbour is the place to get it. Stylish and fresh, the scenic location and people watching spot is a chance to enjoy an exquisite brew.
9.00am - Auckland Adventure Jet boat
If the coffee doesn't wake you up, a trip aboard the Auckland Adventure Jet boat certainly will. Situated at Pier 3 on the waterfront, directly in front of the distinctive terracotta and yellow bricks of the Ferry Building, no other company gives such a dizzying view of the city's sights.

It's a novel way of combining sightseeing with a racing heart (a bit like strapping yourself to the belly of an aeroplane before it makes a short-haul flight), injecting what would be an ordinary ferry cruise with twists, spins, and the power of about 600 horses. Expect to see all of the city's iconic landmarks; the impressive skyline, Auckland Harbour Bridge, the Hauraki Gulf Volcanoes and iconic Sky Tower.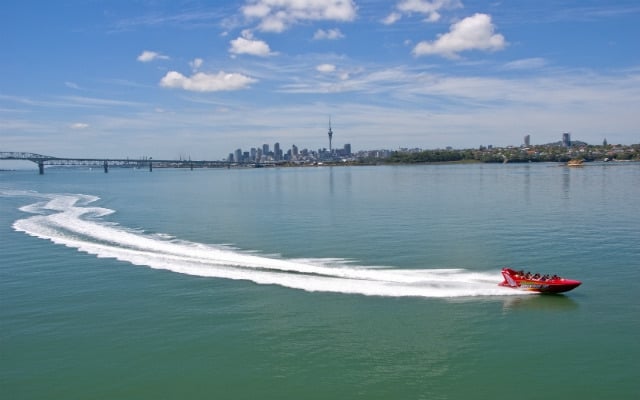 10.00am - Ferry to Devonport
The ferry terminal is a literal hop, skip and jump from the Auckland Adventure Jet pier, though I found that if you do exactly that you will attract a number of perplexed expressions. A gentle voyage lasting 12 minutes takes you steadily away from these stares, to the pretty seaside town of Devonport, which is known for its arts and crafts, beautiful views, and plenitude of cafes.
10.30am - North Head Mount
The walk to Devonport's North Head Mount is mildly strenuous but exceedingly worthwhile, with a summit that affords spectacular views that reach across Auckland's cityscape and down the Hauraki Gulf. The mount itself is atop a volcanic headland, and played an important role in New Zealand's military history, the remnants from which add colour and interest to any visit.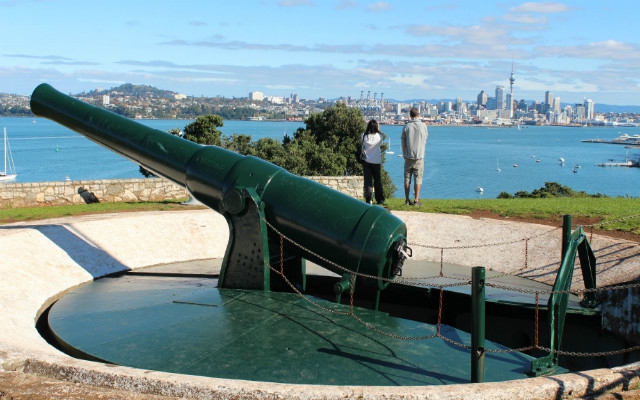 11.30am - Devonport browse shops
It's worth spending a little time in Devonport itself, where a selection of quaint shops provide a pleasant distraction and chance to catch one's breath.
12.00pm - Lunch at a high street cafe
There are plenty of small cafes to enjoy on the main high street including Manuka Cafe which is a personal favourite. The Patriot Pub is another great lunch option if you want to enjoy a beer as well.
13.30pm - Return Ferry to Auckland
The return to Auckland offers another chance to digest Auckland's stunning skyline, along with the picturesque boats that fill Waitemata Harbour and give the city its moniker, The City of Sails.
14.00pm - Kelly Tarlton's Cage Dive
Kelly Tarlton was a fascinating man, and not just because of his phenomenal beard. He had a varied and illustrious career within marine studies, spanning photography, archaeology, a number of inventions and a scuba diving company, all of which culminated in his ultimate dream: Kelly Tarlton's Antarctic Encounter.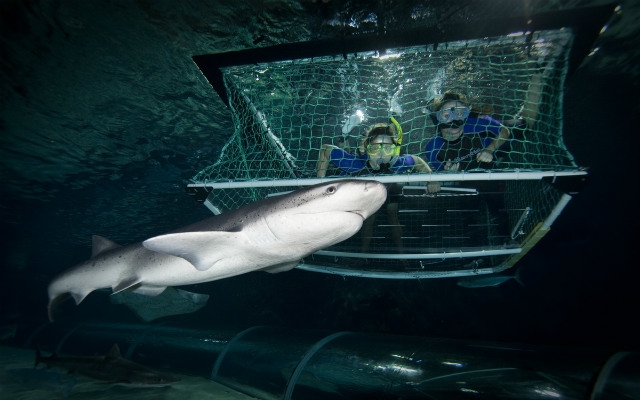 Experiences here range from the serene to the extreme, which is why I found myself in a metal cage, part-submerged in murky water and feeling quite alone. Except I wasn't alone, for somewhere in those waters were sharks, principally those of the Sand Tiger, School, Broadnose Sevengill and Wobbegong varieties. It's an oft-referenced adrenalin activity, which, as my heart can testify, more than lived up to expectations.
The attraction is serviced by a convenient shuttle bus that departs opposite the ferry terminal, operating 7 days a week, on the hour, every hour, from 09:00 until 16:00.
16.45pm - Queen Street
Queen Street is Auckland's most popular shopping district, easily accessed via bus and a perfect walkway to shake off any nerves you may have developed while facing monsters of the deep. This is where you will find the famous Smith & Caughey department store, the oldest of its kind in New Zealand, with opulent Victorian interiors that forerun the stylish modern clothes beneath.
17.00pm - Elliott Stables
Opposite Smith & Caughey sits Elliott Stables Epicurean Village, a marketplace of fodder that brings together connoisseurs of meats, cheeses, wines and more so that the likes of you and I can go along and titillate our stomachs with modest samples of each. The whole place is presented in an old-Auckland style, and is a delightful spot to sit and enjoy some coffee and cake.
17.30pm - SkyJump

SkyJump is a bit like Base Jumping, except with the removal of the parachute, and the addition of a wire. Neither is wholly reassuring, and both find a way of sending your body into a strange rush that scatters your focus and overloads every sense with adrenalin.

And so it was with an electric mixture of giddy excitement and grave terror that I stood upon the edge of SkyTower, Auckland's tallest structure, with eyes searching desperately across the enveloping vista, but a body that was irresistibly infected with dread. In 11 seconds I will reach a speed of 85 kmph. Survival was my only thought. The good news is that I did survive.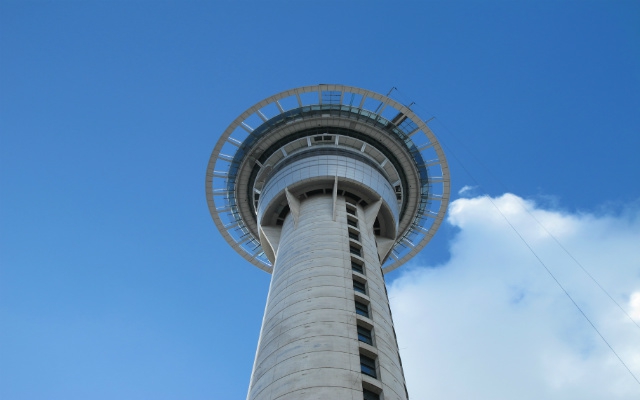 19.00pm - Dinner and Drinks at Viaduct Harbour
The best place to round off a day in Auckland is a sumptuous meal overlooking the water in Viaduct Harbour, the city's most eminent party hub. Along with a great selection of restaurants, the choice of bars is rich, as was the mojito I picked to reflect upon the past fourteen hours while absorbing the magnificent array of boats moored along the marina berths. The perfect end to a perfect day.