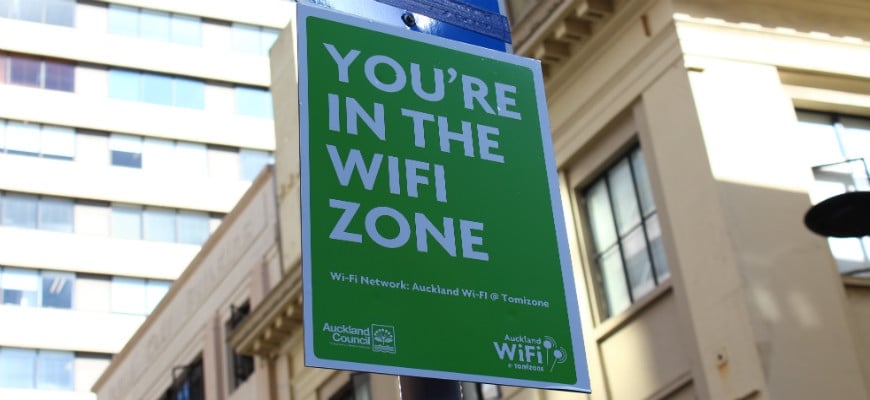 Auckland Useful Info
Hospitals
Auckland City Hospital is the city's principal hospital and largest in New Zealand. Located on 2 Park Road, Grafton. +64 9 367 0000.

Free Public Wi-Fi
Auckland Wi-Fi@Tomizone is the free Wi-Fi service that can be picked up in public areas in the downtown area, public transport and various council facilities. It's up to 30 minutes access per day. Downtown spots include Aotea Square, North Wharf, Queens Street, Queens Wharf, Viaduct Harbour and Wynyard Quarter. Many Auckland libraries provide free Wi-Fi. 24/7 access is available at Central City Library on 46 Lorne Street.

Citizens Advice Bureau
There are 31 Citizen Advice Bureau offices around the city. View the locations guide for your nearest.

Library
There are over 55 libraries on Auckland. View the Auckland Library Map to find your nearest one.

Airport Transfers
The Airport Shuttle service is called 'Super Shuttle'. A typical fare into the city centre will cost $40 for two persons. The Airbus Express costs $16 per person, one way, and $28 for a return fare to the city centre. Taxis cost between around $80 into the centre.

Parking
Refer to our Auckland Parking Guide.

Weekly Markets
City Farmers' Market - Britomart, Cnr Gore & Galway Streets, Auckland CBD. Saturday 8.30am -12.30pm / Parnell Farmers' Market - Parnell Community Centre, 545 Parnell Road (Jubilee Building). Saturday 8.00am - 12.00 pm. / Matakana Market - 30 Matakana Valley Road, Matakana. Saturday 8.00am - 1.00pm. / Auckland Fish Market - 22 - 32 Jellicoe Street, Freemans Bay, Auckland. Thursdays 5.00pm - 9.00pm. See our Auckland Weekly Market Guide for more info.

Link Bus Services
The Link Buses connect the Auckland suburbs to the downtown area of Auckland. The red city link buses in the downtown area are free.

Sightseeing Bus
The Auckland Explorer is a Hop on Hop off bus that tours (with full commentary) 14 of the city's leading attractions.

HOP Card
The HOP card costs $10 allows cash-free travel on Auckland's bus network. The 'Top-Up' card is available to buy from a large number of shops. View the Hop Retailer List to see your nearest shop. The HOP card will soon extend to all other forms of public transport.

Airport Baggage Storage
You can store your luggage at the i-site Visitor Information centre on the ground floor in 'arrivals' area. Lockers can also be hired per item, per day. +64 9 275 6467. Passengers can store their hand luggage at The Collection Point after 'Security' on the first floor. You need to be collect by 11pm on the same day. +64 9 256 8845.
Food Shopping
The main downtown supermarket is Countdown, located on 76 Quay Street. Opening hours are 24 hours a day, seven days a week.