Guide To Auckland Accommodation
As New Zealand's most populated city, Auckland's accommodation covers all preferences and budgets. To help with your accommodation booking, we've used our local knowledge to create a quick guide to the different areas of Auckland along with a broad overview of the accommodation choices to expect.  For more information on specific properties, please refer to our Auckland accommodation category.
Auckland Central
Many of the large chain hotels and serviced apartment complexes are located along or just off Queen Street, the three kilometre road that connects the waterfront area of Quay Street to the bohemian K-Road. Being in the heart of the downtown area, you're close to the main shops, the Sky Tower and the Auckland Art Gallery. There's a good choice of backpacker accommodation along Queen Street with a couple located just off the lower end on Fort Street.
The Viaduct Harbour has a number of upmarket hotel and luxury apartment options that take advantage of the harbour views and offer the convenience of being located by the city's main dining and nighlife spot. A couple of large chain hotels are within close proximity along Quay Street and Princess Wharf and close to the main ferry terminal to explore the nearby islands of the Hauraki Gulf.
Further out in the city fringes, the dining hot spots of Parnell and Ponsonby offer plenty of smaller hotels, Bed and Breakfast and motel choices.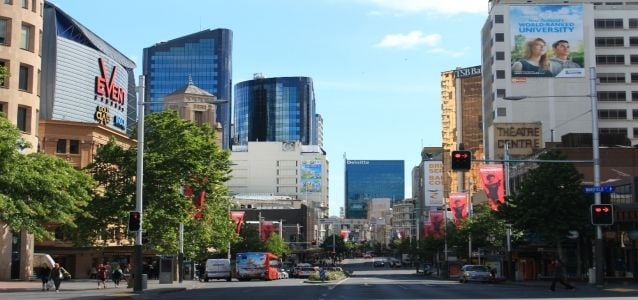 Auckland North
Golden beaches and secluded bays dominate the North Auckland landscape. A short ferry crossing from downtown Auckland, Devonport is one of the city's prettiest suburbs with quaint cafes, boutique shopping and historic reserves offering amazing views of the Auckland skyline.
Accommodation tends to feature Bed and Breakfast and lodges. The Esplanade is the main hotel and dominant building located at the foot of the high street.  A few kilometres further North, Takapuna is a slightly bigger seaside town that offers greater hotel and motel choices. The resort town of Orewa, with its three kilometre golden sand beach, offers the other main concentration of accommodation to the North of Auckland, dotted with motels and hotels nestled in front of the beach.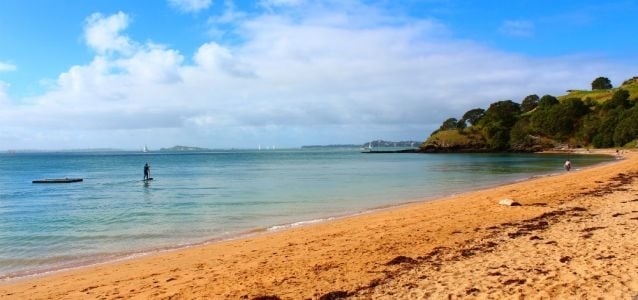 Auckland West
The wild and unspoilt region of West Auckland means accommodation is either about enjoying seclusion amongst nature, or as a functional base to explore the untamed area. A number of motels can be found in in Henderson but venture towards Piha Beach and the Waitakere Ranges for rainforest retreats, boutique lodges and romantic getaways.
The 250 kilometres of walking tracks amongst untouched rainforest and cascading waterfalls are why many choose to seek accommodation in West Auckland. Piha Beach, with its iconic Lion rock and wild surf, includes a camp site right next to the beach. 25 minutes west of the city, is a chance to enjoy the welcoming cellar doors and specialist shops of kumeu. Smaller sized accommodation consists of lodges, B&B's, homestays, farmstays and a few motels.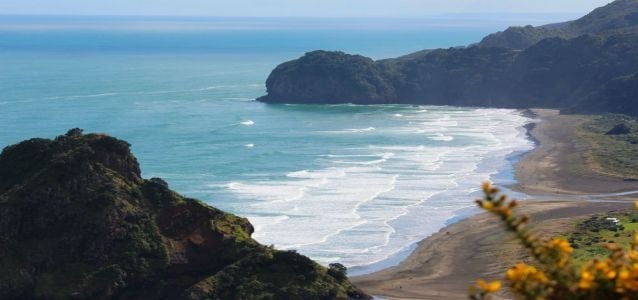 Auckland South
With Auckland airport close by, Mangere is packed full of motels offering a convenient overnight stay. A number of the larger chain hotels and motels are situated on Airpark Drive, just outside the airport. Many will offer a free shuttle service to and from the airport.  Mangere is also a region of great historical significance to the Maori, centred around  the sacred peak of Mangere Mountain  which is well worth walking up to see the Maori ruins along with the views.  The Otuataua Stonefields are also situated in Mangere with 50 acres of land containing some fascinating archaeological remains of European and Maori settlements.
Manukau  offers predominately motel accommodation given it's close proximity to the airport (approximately 9km). Shopping is on hand at Westfield Manakau City, one of the country's oldest malls, while great family fun can be had at Rainbow's End, Auckland's premier theme park. If you're after a spot of relaxation, head to the 64 acres of beautiful grounds that make up Auckland Botanic Gardens in Manurewa.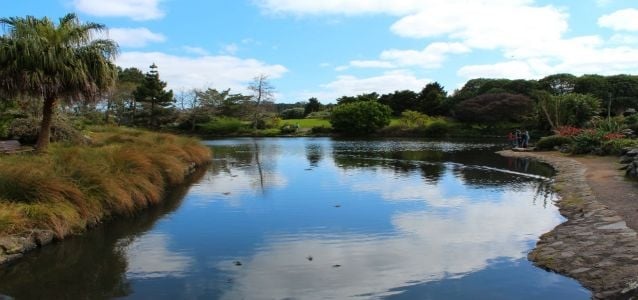 Waiheke Island
 A 35 minute ferry ride from the main ferry terminal in Auckland, Waiheke Island draws a steady stream of day trippers keen to explore the delights of the island. Widely known as the 'Island of Wine', Waiheke is packed full of wineries, many of which have cellar doors and restaurants to enjoy.
The island has well over a hundred beaches including the stunning Oneroa and Onetangi beaches that would feature in many top 10 beach lists of New Zealand.  Accommodation is varied, suiting all ends of the budget scale – backpacker to high-end. The main town of Oneroa provides the largest choice, with the beaches of Onetangi and Palm Beach also good location choices