Guide To Auckland Restaurants
Auckland offers a huge selection of dining out options in a wide variety of settings including beachside, harbour, suburb, upmarket, and chic downtown. Based on our local expertise, we've created a guide to the main dining areas of Auckland, rather than an exhaustive neighbourhood list.

Wynyard Quarter

Wynyard Quarter is one of the most popular places in Auckland for families to eat out. Crossing Te Aro Bridge from Viaduct Harbour, it's a pleasant walk past the Event Centre onto the waterfront area lined with family friendly restaurants. Choose from Indian, Spanish, Italian, Seafood and steak restaurants which all have outdoor dining areas to take in the views of the harbour.

Running parallel on Jellicoe Street are thai, pizza and american 'deep south' eateries. Jellicoe Street is also home to Auckland's Fish Market, which apart from selling the best fresh fish in town, also includes a courtyard restaurant with live music at the weekends. After lunch, families can enjoy taking the kids to Silo Park, a few yards further along. View our Wynard Quarter video.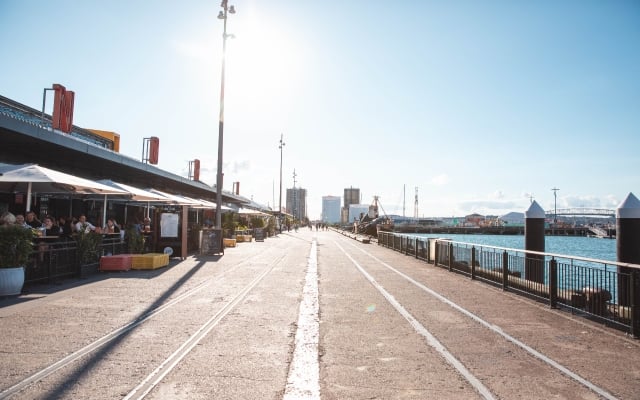 Viaduct Harbour
Viaduct Harbour is the premier nightspot of Auckland with the yacht lined harbour surrounded by some of the city's top restaurants and bars. From the multi-levelled Saint Alice restaurant, to the attractive balcony dining area of the 'Soul Bar' and the Headquarers Restaurant. Competing for space amongst the restaurants, party goers can chose from a diverse mixture of bars including cocktail, sports, waterfront and rooftop bars, many which offer late afternoon/early evening happy hours. The Viaduct Harbour continues to be the place to head to for a lively night out.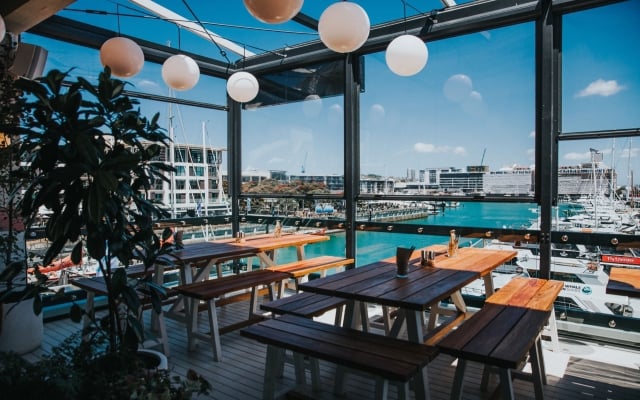 Princes Wharf
Located off Quay Street in the downtown area and a neighbour of the Viaduct Harbour, Princes Wharf is lined with several waterside dining spots. The 'all you can eat' meat rich menu of WildFire is the first restaurant to tempt diners. Further aong the wharf includes the spanish tapas and the Bellini Bar of the Hilton Hotel.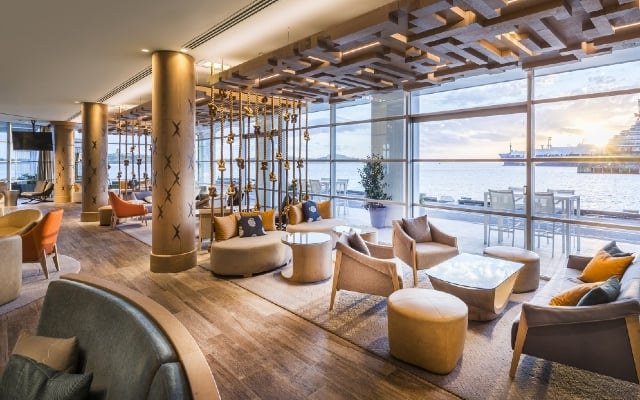 Britomart
The trendy designer label shopping preccint of Britomart features some of the hippest bars and restaurants in Auckland, just off Queen Street. Here, you'll find some of the coolest backstreet bars, hip cafes and themed restaurants. 'Mexico' charms with its warm and cosy interior and mexican 'favourites' with Brew on Quay providing a good pub dining option complete with roof top bar.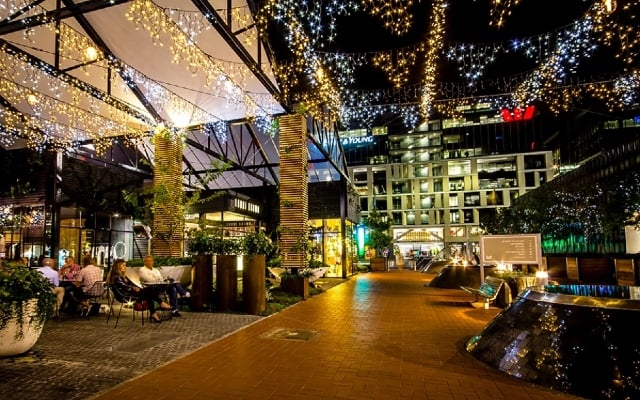 Queen Street
Queen Street is a three kilometre road that stretches from Quay Street to Karangahape Road and is the main shopping hub of downtown Auckland. Along the street itself there are a number of fast food eateries, while towards the upper end is a collection of no frills asian restaurants. Towards the lower end, off on Vulcan Lane,are a couple of pub options. The Occidental is a belgium beer cafe while next door is the city's oldest pub, the Queens Ferry Hotel. Close by, Chancery Street is a lovely piazza with high-end shops and a couple of restaurants with courtyard seating.
Midway up Queen Street, behind the department store of Smith and Caugheys, Elliott stables is an ecletic collection of artisan restaurants with french creperie, spanish, italian, german, japanese eateries creating an 'epicurean village environment'. Situated on the corner of Victoria Street West and Federal streets, The Skytower includes Skycity's Casino, Hotel and around 14 restaurants to choose from including The Orbit, a 360 revolving restaurant at the top of the Skytower.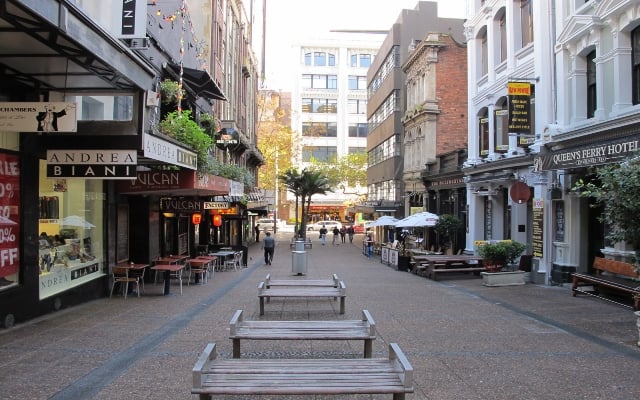 Karangahape Road
The lively 'K-Road' represents the edgier side of Auckland, attracting artists, musicians and the creative types. This is the place to catch a drag artist and cabaret shows, find gay and lesbian clubs and browse retro clothing stores. There are plenty of cafes, a food court and a heap of restaurants catering for tastes around the world - Iranian, Malaysian, Thai, Japanese, Korean, Mongolian, Turkish, European and more.

Ponsonby
Just two kilometres from the downtown area, Ponsonby is known as the 'dining room of Auckland' with a mixture of fine dining, cafes, bars and bakeries. Ponsonby Central is a fresh produce market and a collection of dining options under one roof on Ponsonby Road. Choose from japanese, chorizo, thai, pizza, seafood and a couple of cafes. On Sundays, a weekly market takes place.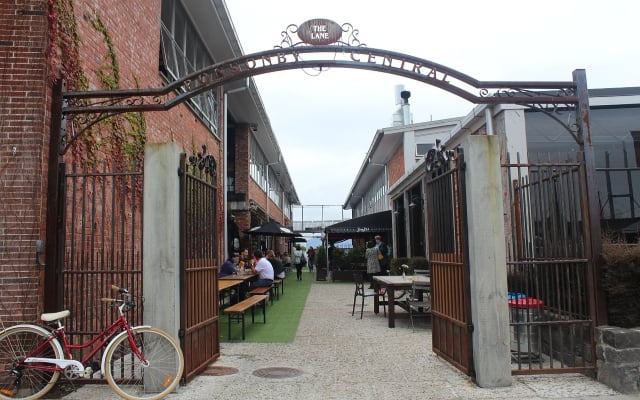 Parnell
A short drive or bus from the city centre, Parnell is an upmaket suburb with a real village feel. Boutique shopping, quaint cafes and quality restaurants make Parnell a popular spot away from the 'tourists'. Dining choices range from the fine dining french influenced cuisine of Antoine's, to mediterranean courtyard, thai and indian restaurants and the casual pub food of Windsor Castle and the Bog Irish Bar.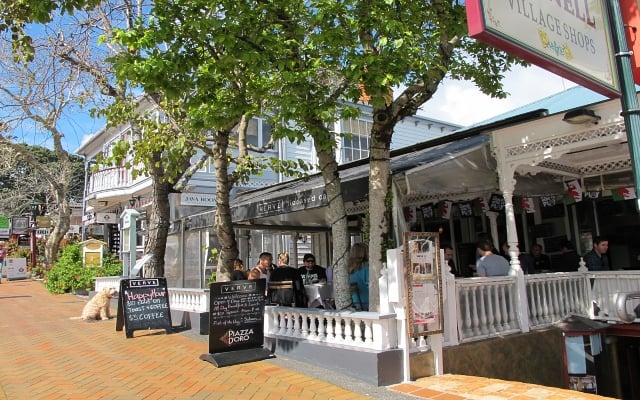 Mission Bay
If you are looking for beachside dining close to the city centre, head along Tamaki Drive to the popular suburb of Mission Bay. The main road running parallel with the beach is lined with cafes many of which offer all day dining, takeaways and a few restaurants that take advantage of the beach views. The second floor balcony of De Fontein's Belgium Beer Cafe offers some of the best dining views in Mission Bay. Continue further along to St Heliers, and you'll be rewarded by a quieter and more upmarket beach with a handful of bar and restaurants.

Devonport
A short 12 minute ferry crossing from the main ferry terminal on Quay Street, Devonport is a pretty seaside village with lots of quality cafes and restaurants. Most of the cafes and restaurants line the main high street that lead from the ferry terminal up towards Mount Victoria.

The Esplanade Hotel includes outdoor seating close to the ferry terminal while Manuka Cafe is a popular choice in the centre of town with an extensive all day menu. Towards the top of the high street, tapas, bistro and italian restaurants await. Head along King Edward Parade for a lovely seaside walk and to find the Torpedo Bay Cafe (next to the navy museum) which offer the best views of Auckland harbour.