Child-Friendly Things To Do In Auckland
Family Fun Hot List
You can even throw your teenagers off the Sky Tower, on a harness and rope, of course.
As New Zealand is such an outdoorsy kind of place, there are plenty of opportunities for parents to let their kids run off that stored up energy from the long-haul flight to get here. The city of Auckland is no different, with plenty of green spaces, beaches and child-centred museums.
Parks
If you go up the Sky Tower you will see that Auckland is a city with a lot of green spaces. Some of these spaces host local art or events, some have playground equipment, and all boast clean areas to run around or picnic on. In the downtown area you can find the beautiful Myers Park (about two thirds of the way up Queen Street on the right) with its play area and shaded hills for rolling down. It is easy to pop up to Queen Street from here for snacks or coffees.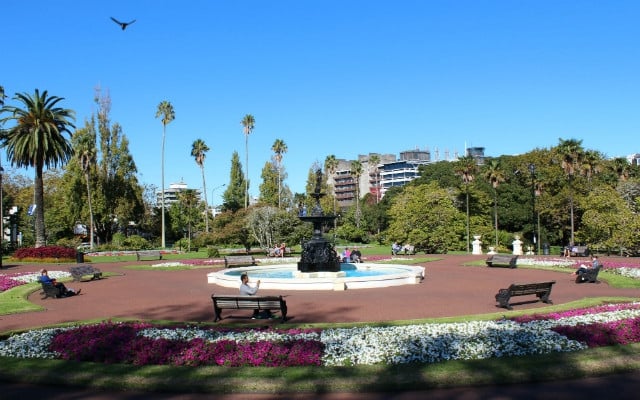 Next to the University of Auckland is the expansive Albert Park. This is the site of seasonal festivals such as the Lantern Festival and 'Music in the Park', but it's a great place to toss the Frisbee or kick a ball around at any time.  Another big park is The Auckland Domain. Again, there are wonderful events here in the summer but also come for a walk around when you go to the War Memorial Museum. You can feed the ducks or have a gander at the Winter Gardens, glass houses full of flowers that are a refuge from sun or rain if need be.
If you have a car, or care to venture on to a bus or two, interesting parks for children are Cornwall Park/One Tree Hill with its cool little train to push each other round on, and Olympic Park (New Lynn) which has a giant spider's web-like climbing frame. Rocket Park, in Mt. Albert, is a good one for the littlies, as it is partially enclosed and the nearby cafes are top notch. Mission Bay also has playground equipment right on the beach and there are plenty of cafes and caffeine stops nearby.
Museums
Auckland has a good number of museums to keep children's minds occupied with wonder. Budding scientists can be taken to the Observatory in Cornwall Park or Kelly Tarlton's, our aquarium. But for local culture, I'd give top marks to both The War Memorial Museum and The Maritime Museum. Visits to both of these explain New Zealand's place within the Pacific and tell all about how Maori first journeyed to these islands. The War Memorial Museum has a children's area and a life-sized marae (Maori meeting house) inside and Maritime Museum tickets include a boat trip out on the harbour.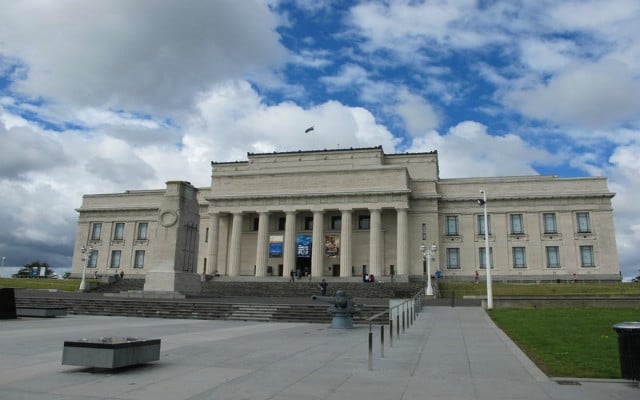 Trails, beaches and volcanoes
There are beaches and trails just about everywhere. Stick with the urban beaches of Mission Bay or Takapuna , or head out west to the black sand, surf beaches for some excitement. Along the way you pass through the Waitakere Ranges where there are lots of places to stop off for a small walk or tramp (hike) in the bush. Visit the Arataki Visitors' Centre for helpful information. Or you could opt to do your walking on any one of the city's volcanic cones. Favourites are Mt. Eden , One Tree Hill, both of which you can drive up, and also Mt. Victoria across the water in Devonport. Or, for a day trip, you can take a boat out to Rangitoto to explore our youngest volcano.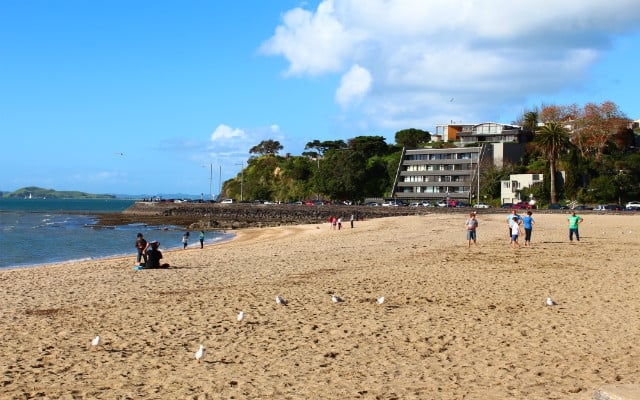 Rainy Day Plans
If you land here in the middle of winter don't let the rain stop your kids having fun. Remember that Auckland weather is so changeable that you can be washed out for ten minutes and, in the next ten, get sunburnt. The key to happy children is to carry layers of clothing so you can make adjustments, including a lightweight rain jacket. Kiwi kids all have gum boots, what others may call Wellingtons or rain boots.
During the winter they can be purchased cheaply from supermarkets, the Warehouse or many mall shops. As long as you can get these key items to waterproof your little'uns, there is no need to change your outdoor plans as the weather is rarely bad enough that you won't get some calm periods. If you do want to get out of the elements, the museums are a great thing to have saved for such an occasion. Most have cafes inside so, beyond viewing the main attraction, you can plan to have one of your eating breaks within.
Places to Eat
Children are welcome in most Auckland restaurants and cafes, save a few fine dining establishments in the evenings. Many places have high chairs and some even keep a selection of toys or have small play areas. For 'please everyone' Asian food there are a couple of good food courts that rival those in Singapore or Hong Kong. Check out Food Alley at the bottom end of Albert Street and also the Ponsonby Food Court in Ponsonby which is accessible via the Link bus.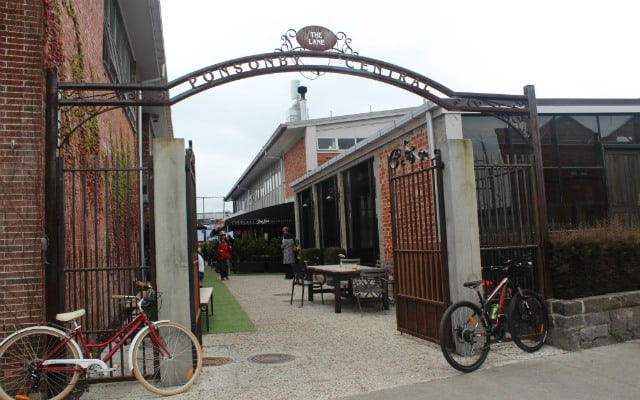 In and around the main thoroughfare of Queen Street in the CBD you can find the usual fast food outlets or step on to a side street for steak houses, Chinese dim sum restaurants or even Middle Eastern Food. Areas such as the waterfront and the newer Britomart precinct are filled with cafes and restaurants of every price range and cuisine. 
There are still more things to please the unappeasable, such as Rainbow's End Amusement Park and numerous boat trip possibilities (including a couple of jet boats on the harbour). You can even throw your teenagers off the Sky Tower, on a harness and rope, of course. Just be armed with sunscreen, a hat and possibly waterproofs at all times and you will be all set to enjoy whatever Auckland throws at you.