Exploring Auckland's Cafe Scene
Food & Drink
You can schlurp a brew in some interesting rooms served by funky people.
In amidst the adventure tourism, outdoor life and clean, green images of what people tend to think New Zealand is all about, sits one lesser known activity. New Zealanders love their cafes and Auckland is a great place to indulge in a local pastime.
The Approach
Before you set foot in a cafe, there are a few differences in how we order coffees that you need to know. Firstly, most cafes are order and pay first, then find yourself a table. When it's busy there are exceptions to this but approach the counter and the server will let you know if that's the case.

Secondly, there is no tipping. Some cafes are now starting to place tip jars at the till but it's not normal practice to tip as cafe worker's wages are not dependant on tips like they are in North America, for example. If you liked the service, there is a tip jar, and you want to tip, by all means go for it, but don't feel in any way obliged. And finally, getting to know the Kiwi names for coffees can help you get what you want. Here are some of the most popular items on the menu.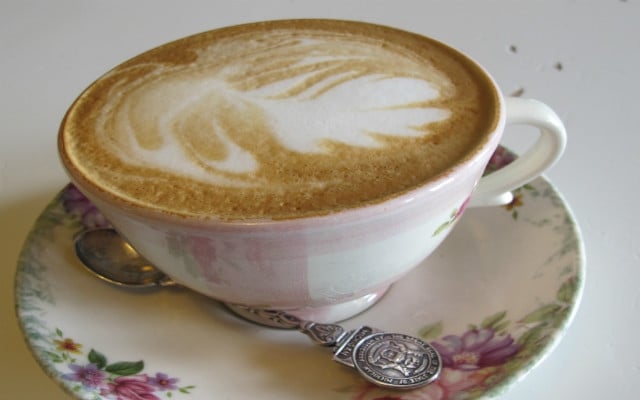 The Drinks
- Short black - espresso
- Long black - most often a double shot (sometimes single) of espresso poured into hot water however, sometimes the water is served separately for you to pour in yourself. Ask your barista how they do theirs to avoid confusion.
- Flat white - cafe au lait, or espresso and milk (usually 1/3 to 2/3 respectively) with a bit of froth on top
- Latte - espresso with a lot of steamed milk in a cup/glass or a bowl
- Fluffy - a small cup of steamed, frothy milk dusted with chocolate and served with a chocolate fish or marshmallows on the side. For the wee ones in the group!

The Locations
The CBD (Central Business District) is chock-a-block with cafes, while the waterfront locations are Viaduct Harbour and Wynyard Quarter. You can either partake of the atmosphere in the numerous cafes or opt to get a take out and go for a stroll to the playground with the kids. Or, you may prefer to head to the fish market to pick up some fresh seafood for dinner. You can even take a tram ride if you need to rest your feet.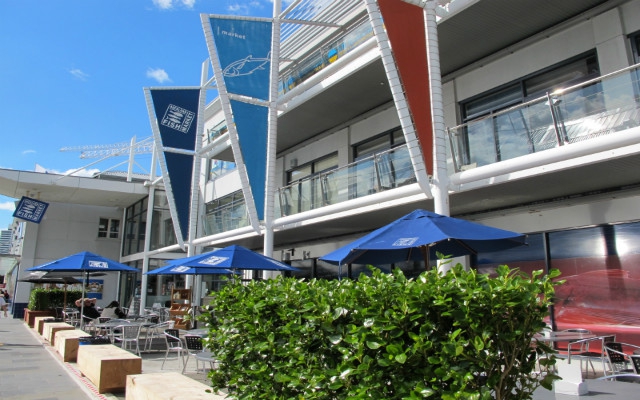 Off either side of Queen Street you can find some nice areas tucked behind that boast numerous cafes with character. Target the Britomart precinct at the bottom of the hill or start trekking upwards towards Fort Street, High Street, or the Elliot Street Stables. These mainly cater to business people who need a boost in the daytime but some are also nice places to visit in the evening.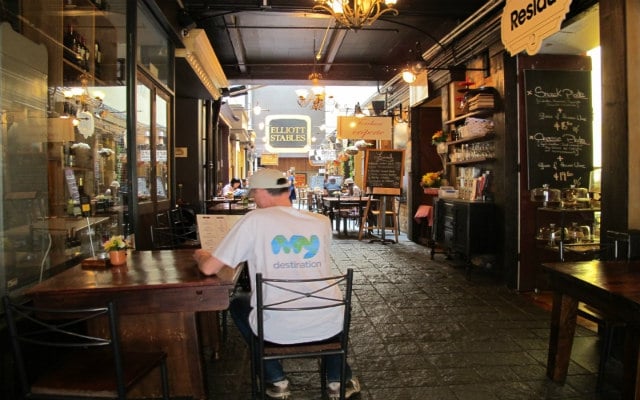 Once you finally reach the top of Queen Street, and you may need a coffee or two to get you there, you'll arrive at Karangahape Road. Known by locals as K Road, this is where you find Auckland's alternative scene. The same holds true for cafes and you can schlurp a brew in some interesting rooms served by funky people.
Further out, you can find the neighbourhood cafes. If you want to go local, this is where you need to be on a Saturday or Sunday morning. Head to one of the beachy areas such as Mission Bay, Devonport or Takapuna or just put a pin in the map and get a bus to any central suburb and they are sure to have a cafe in the shopping area. Good areas to target are Kingsland, Mount Eden, Ponsonby and Parnell. Or you can go even further afield to Titirangi Village and head off for a walk in the bush afterward, but you'll need a car to get there.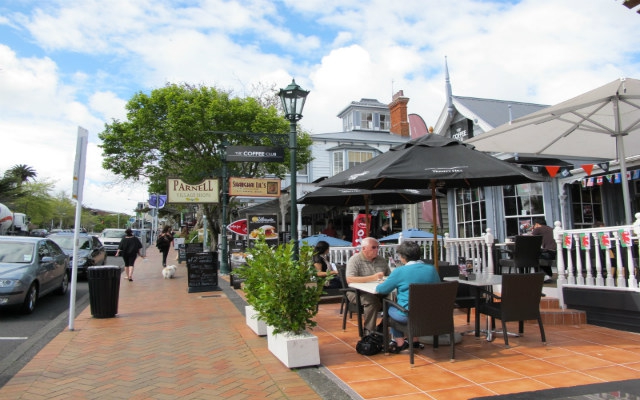 The Child Friendly Cafes
You will have noticed from the list of coffees that New Zealand tends to cater to children as well as adults in their cafes. There are a few cafes that really stand out as far as keeping the little tykes entertained, however you often need to take a bus or drive since they are usually out in the suburbs.

A favourite is Frolic, in Royal Oak, because they have a covered deck out the back just for families. There is a chalkboard and a heap of toys so you can enjoy your coffee in peace when your toddler has long since abandoned his breakfast. And, the best thing about this place is that there is an awesome playground right across the road in Cornwall Park. Two for one!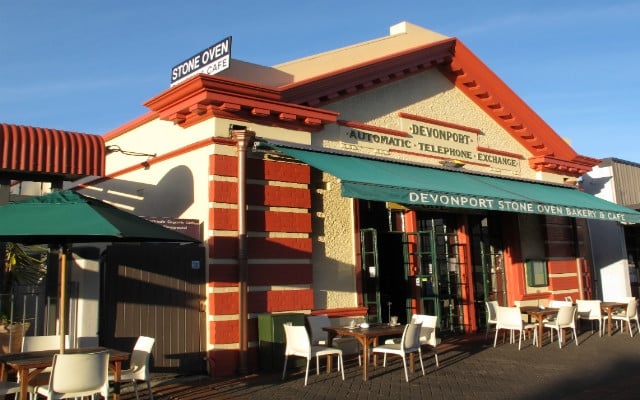 Another favourite is the Stone Oven Bakery and Cafe in Devonport. This one has a play area with toys and is only a ferry ride away from the CBD. It does get very crowded, but not to worry because there are other cafes nearby which have fun things for children. If you play it right, you can get across for breakfast and then pop down to the family-friendly beach for a swim and a play. There is also a Columbus Coffee in Mount Eden (Dominion Road) and the Library Cafe in Onehunga which both have toys and, dare we say it, most of the McDonalds also boast McCafes and Playlands.
So, children or no children, there is a cafe near where you want to be that has the required atmosphere, quality coffee or view you are looking for. If you find yourself lost and in need of a caffeine hit, just ask the nearest Aucklander and they are sure to steer you in the right direction.