A Day Trip To Tiritiri Matangi Island
Inspiration
Marvel at the sound of native bird song in an island sanctuary...
Our Top Experiences and Tours in Auckland:
If youʻre booking your trip to Auckland last minute, we have you covered. Below are some of the top tours and experiences!

The last time I visited Tiritiri Matangi it was for a school trip to plant trees in the 1980s. Just one of the

Auckland

school children making the, what seemed at the time, endless trip in a lurching wooden tug boat. Our mission was that of native forest regeneration.

The 220 hectare island of

Tiritiri Matangi

lies 30 km north of Auckland in the

Hauraki Gulf

. Centuries of Maori occupation and European farming had reduced it to mostly a grassy knoll. Many of the native birds had no choice but to up sticks and move elsewhere to search for food. Only the staunch, such as the fantail (piwakawaka), tui and bellbird (korimako) remained in the sparse pockets of forest.

But in 1984 an extensive programme of replanting was begun on Tiri by the Department of Conservation. It was embraced by thousands of volunteers (and of course school children) who worked tirelessly over a ten year period. Pohutukawa, Kohekohe and PÅ«riri were just some of the 280,000 native trees that were replanted transforming the island into a lush, green sanctuary.

After the replanting, a successful wildlife reintroduction programme was launched so the island is now inhabited with some of New Zealand's rarest native birds; including the Stitchbird (Hihi), Little Spotted Kiwi (Pukupuku) and Rifleman (Titipounamu). Tiri is also now an open Scientific Reserve.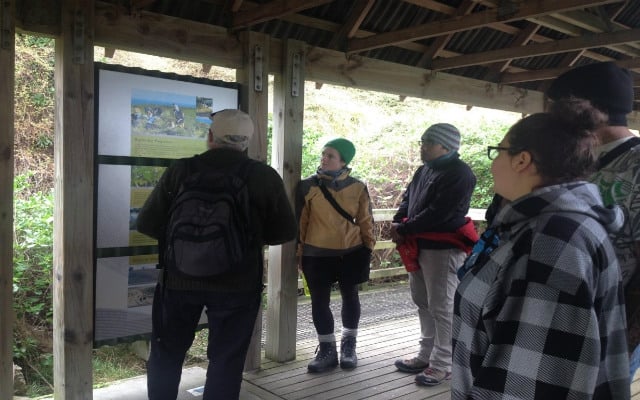 The before and after shots of Tiri transforming from a brown ugly duckling into a beautiful green swan, are some of the photos you can see on the information boards when you come off the boat.
No more lurching tug boats, these days, after just a 75 minute ride from
Downtown Auckland
on a 360 Discovery Cruise, the island is more accessible to visitors. In fact it has become so popular that it is rated #1 of top things to do in Auckland.
What makes this off-the-beaten-track island such a must-see? The special magic about Tiri is that it replicates the experience of a forgotten New Zealand, when native forest stretched from coast to coast and native birds fluttered through the air, greeting newcomers with curious chirps and warbles. As visitors, we too can experience up close and personal encounters with these fascinating New birds in their natural habitat and come away enriched.
Guided walk on Tiritiri Matangi
Although you can do self-guided
walks
on Tiri, and there are a network of coastal and inner island paths to explore, the best way to learn about the birds you're seeing is to take a 90 minute guided tour for a modest extra fee. These tours are conducted by the Supporters of Tiritiri Matangi who are experts on the birds that live there.
The tour I went on was taken by a guide called Donald who had travelled all over the world as a bird watcher but had first been inspired by Tiri. As a guide he was full of interesting facts, so much so that it took us a while to make it off the beach!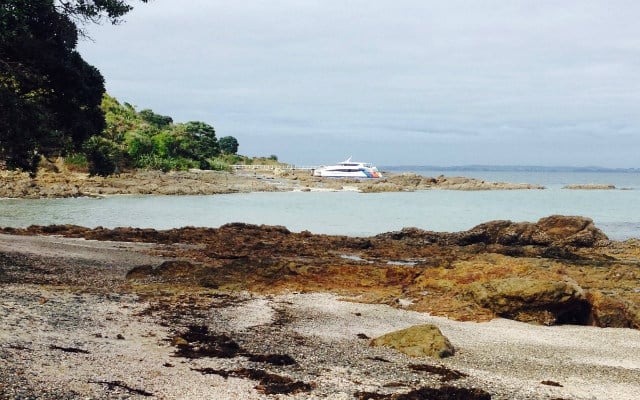 As a keen walker I was raring to go but fast walking isn't conducive to bird watching. You have to walk slowly, peer through branches and listen for scratchings and tweets (not the kind that come through your iPhone). At Hobbs Beach we encountered a curious Fantail who didn't mind us taking closeups with our cameras and a few shy Saddlebacks in the undergrowth.
As we moved further into the replanted bush up Kawerau Bush Track Donald said that this was the best place for bird watching as the branches were lower. Further in was original bush and they tended to flit around in the upper branches.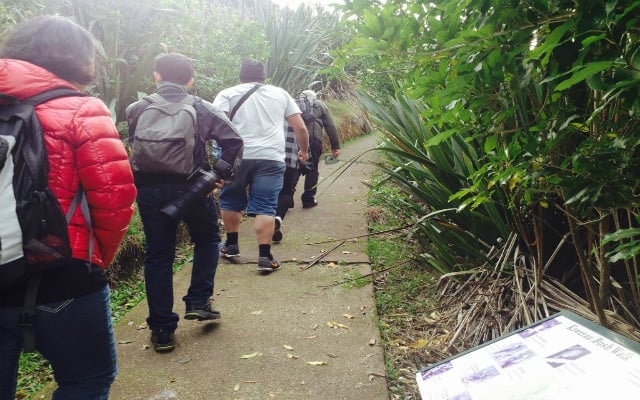 Sure enough we soon had a visit from a curious little fellow who posed this way and that on a branch like he was a Vogue model. Apparently the North Island Robin is one of the easiest birds to photograph on Tiri as they're so unafraid of humans. We also spotted a (a bright green parakeet and some Wood Pigeons. The best experience though was at the bird feeding stations a little further on.
These wooden boxes house large containers filled with honey and water and are set up for the Bellbirds and Stitchbirds when the Pohutukawa aren't in flower. The opening is just large enough for these birds to fly into but too narrow for the greedy Tuis. Suffice to say there was a whole flock of Bellbirds and Stitchbirds drinking their fill and the bird noise was incredible, and what I imagined the dawn chorus to be like if you stayed overnight in the bunk house.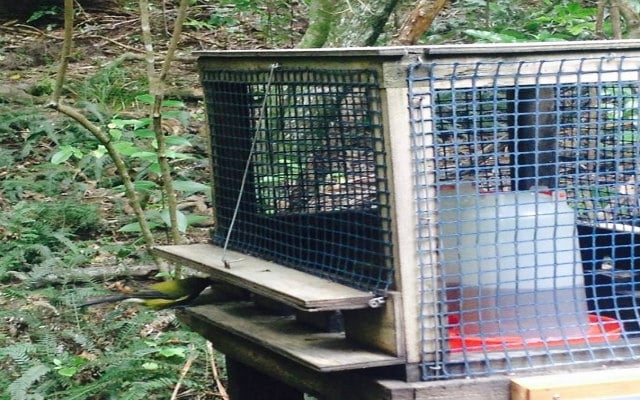 Things to note:
Tiritiri Matangi is a protected island with no introduced pests.
Bags are checked for and food must be packed in sealed containers.
All food & rubbish must be taken with you as there are no rubbish bins.
Footwear must be cleaned of dirt and seeds before boarding the ferry (there are brushes provided at the dock).
Bring your own water, snacks and lunch.
You can swim at Hobbs Beach in summer so bring your togs & a towel.
Bring sunscreen, a hat and good walking shoes.
For more information on ferry times & fares, booking a tour and what to bring visit
Fullers
.