Top 10 things to do near Auckland International Airport
Adventure Family Fun Food & Drink Hot List Top 10
Want to have some fun before leaving Auckland? Or have an amazing experience right after landing? Perfect. Auckland's got it covered!
It is up to you to choose whether you want to go for an adventure, a perfect lookout, relaxation, a cultural experience, shopping or all of it!
Here are our suggestions:
  1. Treasure Island Auckland
This is a great place to spend a couple of hours experiencing both a pirate and mini-golf world. While you are playing 18 holes of adventure, you will find yourself surrounded by beautiful waterfalls, lakes, greenery, pirate ships, and much more. For those who get tired, or wish to have an ice cream or a cold refreshing drink, there is a café area. Pirates don't live only in Caribbean's. They are just around the corner in Auckland. 
For more info, please visit:
adventuregolf.co.nz/​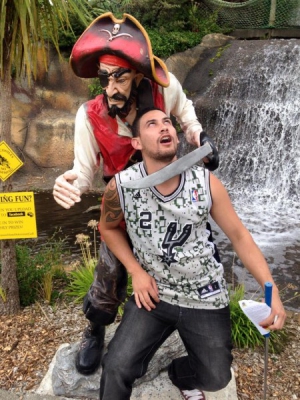 2. Rainbow's End
This is a family fun park with a great history since 1982. In here, you can experience adventurous rides, have giggles and laughs, ice creams, and cold refreshments. Most popular adrenaline rides are Stratosfear, Fearful, Invader, and Corkscrew Coaster. There are also exciting rides like bumper boats, log flume and more. The park is open every day, except on Christmas Day. 
For more info, please visit:
https://rainbowsend.co.nz/
3. Butterfly Creek
Another family fun activity near the airport. Come and meet mythological creatures, as well as alligators, crocodiles, kiwis, butterflies, and other fun animals. Enjoy homemade food in the café or play in the free playground. Relax for at least 2 hours. It's not an everyday experience. 
For more info, please visit: 
4. Formula E- Indoor Go Karting
Adrenaline and adventure are two words best described for this place. Whether you feel like arrive and drive, or want to do individual or team racing, these guys do a great job to meet your needs. As long as you are 145 cm tall and ten plus years old, you will have much fun here.
For more info, please visit:
5. Moana-Nui-a-Kiwa Pool and Leisure Centre
This is a great place to relax, swim, visit the fitness centre, and much more. There are eight pools free of charge for all ages all summer long. How wonderful is that? Don't miss this place if you love bomb pool or hydro slide. Have fun!
For more info, please visit:
6. Scenic Lookout Airport Runway
This is a perfect spot for all of who enjoy watching those giant iron birds called planes taking off or landing. The lookout is located very close to the airport on 564 Puhinui Road.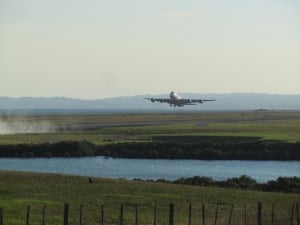 7. Perry Berries Strawberry Farm
Visit this magnificent 30 hectares family-owned farm. These guys are the only strawberry growers in New Zealand. Therefore, when visiting, you will get the chance to taste some of their unique varieties – Fortuna and Festival. 
For more info, please visit:
8. Villa Maria Vinery
One of the most iconic Auckland Vineries that offers a full range of mouth-watering wine. They pride themselves with stunning Chardonnay, Rose and Pinot Noir. If you are into wines, you will be amazed by their single vineyard, platinum or reserve selection. Moreover, Villa Maria has much more to offer as a great lunch at the café, different gatherings, functions and events. They are very well known for music festivals, so sign up for the newsletter. 
For more info, please visit:
9. Botany Town Centre, Shopping Mall
A great place to buy a present, watch a movie or dine in one of the many superb restaurants. Botany Town Centre is a relatively new and modern shopping mall with a variety of events going on all the time. They have a kid's friendly area where you can let your loved ones enjoy a playground, creative tots 2-hour sessions, great movies, and much more, while you are browsing through the shops. 
For more info, please visit:
10. Fo Guang Shan Buddhist Temple
​
This is a beautiful place with a great story behind it. The story goes back to 1991 when Master Nebula came to New Zealand and decided to share his knowledge with the people. Today, there is a beautiful temple, a Chinese school and an art museum to tell the story about Buddhism and the history of this place. Their goal is to promote the Dharma through culture. In the museum, you will find exhibitions, crafts, calligraphy, and much more. They also aim to serve the society and participate in the world of the arts. 
For more info, please visit: